August 26th 
Just a short addendum to the race. Well. I am never brief!
We picked up the car at the Priory,from Carl, last Sunday the 19th he took care of de-sludging the oil( not sure that's a real word but it explains taking 33 days of junk out of the engine and car), Mongolian sand mostly came out of the oil pan and out of the lubrication system. Pedal lubrication system tended by yours truly wasn't really working any more. But other than getting our headlights to work and point in a reasonable direction and a much needed clean-up of the car. By that I mean check all the vital parts. He pronounced the car ready to drive away. So we arrived at the Priory after a 9 hour flight on the 19th to take '26 ' for a spin. This entailed a foray up to the northern parts of Scotland to take in a few events in Edinburgh and drive the Whisky trail of Speyside, 2000 km later we dropped the car off at the Priory and headed on  to Paris by Chunnel, to have a couple of days in Paris, then a few days later off to the wedding in Vigo Spain (of our nephew Greg). What a long sentence, whew!
We hit the M5 then on to the M6 crossed near Carlisle into  Scotland  at that point ,had had enough of the highway and headed for some real driving through the foothills and back roads.
Found the Old Edinburgh road near Moffat and tried to follow it, till we arrived at a farmers field, crossed a small brook only ankle deep and onto some gravel road. Met up with the local farmer who had his tractor sitting on the cattle grates, so we could go no further. He was spraying for something all decked out in his wellies and rain gear. He said 'OH! Eyeing our car. "You don't want to chance that beautiful car on the tracks ahead, its too rough and you will damage the underneath"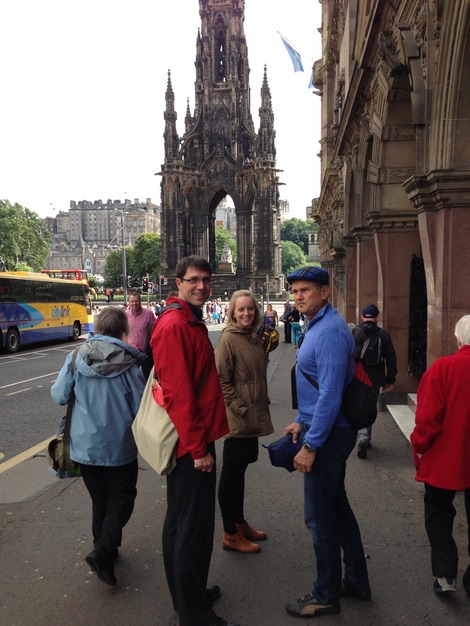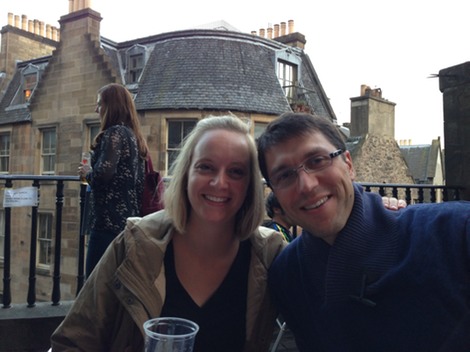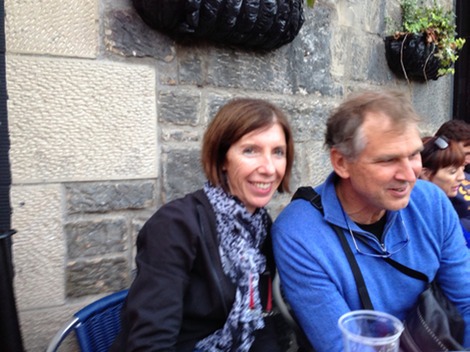 Little did he know where we had been, nothing compared to Mongolian ruts or Russian holes. We deferred to his judgement politely, wasn't sure he was going to move his tractor anyway, and we had removed two skid plates, only the front  plates remained. Headed back towards the town of Moffat and we searched out another trail. A little less wearing road, only some mud and gravel, and 30 miles later we hit the outskirts of Edinburgh. We found our way through the maze of old streets to our destination. My son and Girlfriend are working at the hospital there for a month and he rented an apartment,  so we crashed there for close to a week.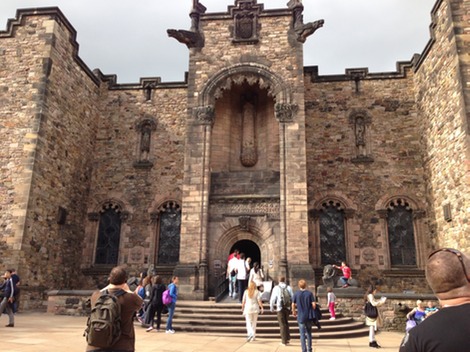 We saw the Edinburgh Tattoo and the World famous Edinburgh Fringe Festival. Edinburgh is a great city even if it is cooler and rainy. Great eating, beers and lots to do.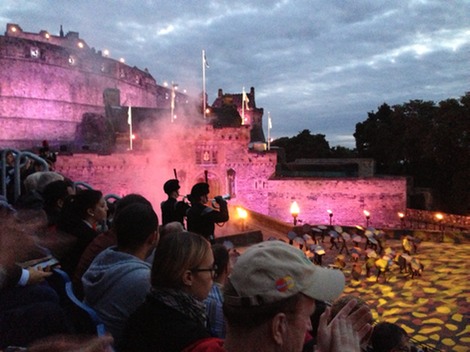 By later in the week we were itching to go driving and off we went  towards the Highlands and the Whisky trail. Now I don't drink Whisky so I became the designated driver and thanks Carl for loosening up the steering. I could actually turn the wheel.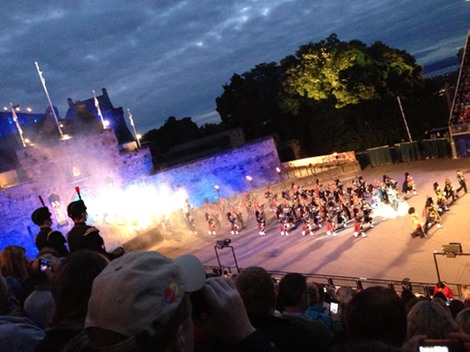 It's Scotland we have the roof off, we remain optimistic  but of course it begins to rain. It had threatened all week but now it started. So as we crossed over the bridge out of Edinburgh the drizzle starts, so up goes the roof. We arrive shortly at our first distillery, ERDRADOUR, sounds like a place out of Harry Potter. Run by three people, it makes according to my group there are four of us, the best Whisky they have ever tasted. They make a very small quantity of Whisky in the most traditional manner possible. No mechanization no modern influences. The distillers use bourbon and sherry barrels but subtle differences seem to make all the difference. They even make a cream Whisky like a Baileys. I go for it and low and behold I really like it. Since its our first stop, we wonder if others may be better and we will be trying the most famous ones. We now drive North the car is almost as heavy as Mongolia. Four large people are in the car with four suitcases.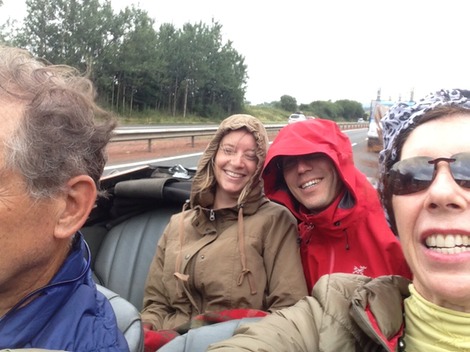 Tonys 6'2" my son close to 6"5  so pretty big, his girlfriend whose 5'9 and me who has filled in a little, like Tony, from our skinny days on the rally. We are here to eat drink and make merry. The weight in the car is formidable and climbing the hills of Scotland are not an easy task. Car 26 sure lugs  up those hills.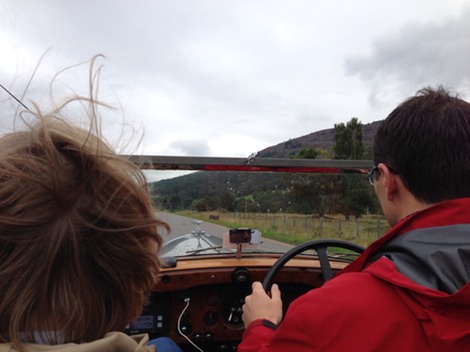 The roads are twisty and winding, Jason hasn't had a chance to drive and as the tour samples were toady, he wants to drive. Changing gear without grinding is a feat. After a few attempts and some metal on metal he gets the hang of it and drives really well. His changes got smoother and he even tried a downshift, not an easy task. He gets it. He maneuvers the car really well. Kelly a little more skeptical of Jason's driving has reservations about some of the tiny roads we try and the difficult turn arounds.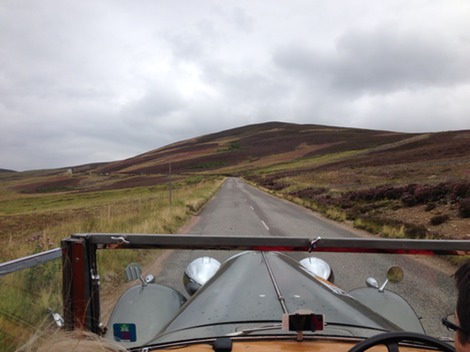 After this stop, we head for the hotel and hopefully a nice late afternoon tea visit with Liz Hanover. We call in, but she is  preoccupied with her latest great grandchild. So  will skip afternoon tea at Balmoral. It's raining anyway. 
We book into our hotel supposedly brand new or recently renovated  hotel, in Ballater ouch!, bad choice. Rooms are beautiful, each room is two rooms, fireplace and separate bedroom. It is all new, the staff is beyond hopeless and Kelly and Jason's shower floods. internet doesn't work etc. Interesting!
We ask for a recommendation for dining, we are offered a fish and chip shop, a curry house and a fast food pizza place. HMMMM! Not exactly what we came for.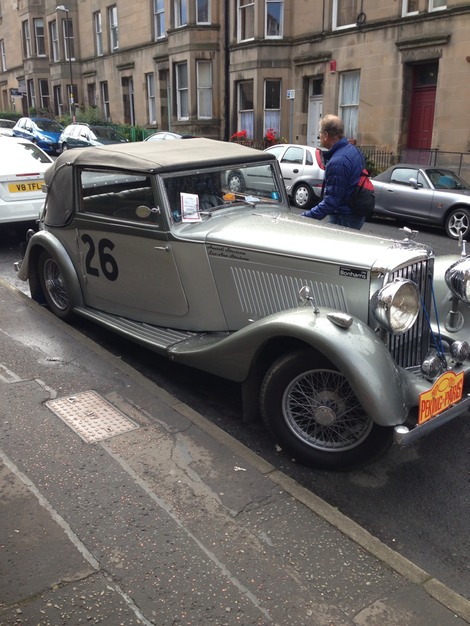 Jason gets his internet going and checks online there are a few not even mentioned by staff. Are they bad? Turns out one of the best restaurants in the area, is right next to the hotel Darrock Leag Hotel it is family run.
We call for a reservation and 7:30pm we are relaxing in the sitting room sipping cocktails in an old estate feeling like royalty.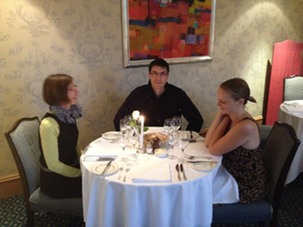 The owners come in to chat and then we are shown into a fabulous conservatory with a scrumptious food service. Two and a half hours later after sampling excellent local fare and superb wines we all waddle back to the hotel, oh dear the car will struggle even more tomorrow.
 We will all return and stay at the B and B next time for sure.
We make, Great plans to work off the meal and rise at 7:00 the next morning but none of this will come to fruition as no one rises before 10:00 am. 
We dress and try to rush out, we have Whisky to try but before that one more problem the hotel decides to bill each of us another £105.00 for each room. We argue it and leave refusing to sign. Could be a battle brewing here, we used none of the hotel facilities and not one drink was drunk here.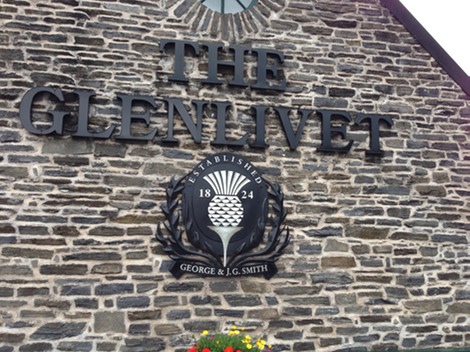 Stopping in Ballater we find a small coffee shop with scones and clotted cream and homemade jam. Best start to the morning.
Off we head for Glen Livet distillery and a tour of the largest distillery and probably best known. Interesting it isn't even owned by Scotsmen anymore. It is owned by a French conglomerate.
Car is struggling. We notice a sign up high in the hills for Adders. No one can believe there could possibly be adders in Scotland but there are according to the tour guide at Glen Livet. Well for one of the best whisky' s we aren't all that impressed. Well me, I wouldn't know a good one from a bad one and sadly I gag at the smell. I could barely stand in the barrel room. 
I think everyone was spoiled by the ERDRADOUR.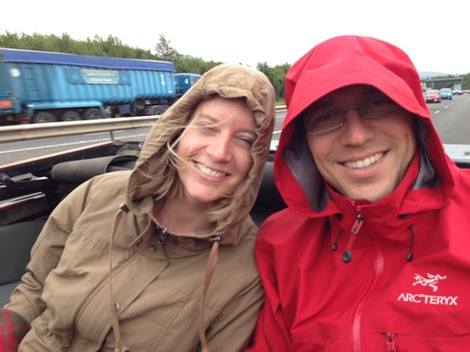 One hour later back in the car, its cold, it's windy and its wet. Jason drives and is clearly enjoying the drive. The  car has a few issues, the headlights do not behave and the right one acts  like a strobe light. The loose fender has it rolling around? The signals cease to function and the two drivers mirrors allow me to look at myself but definitely not see any cars.
We decide to try another distillery, Glen Grant. Medium size and here  are treated to a private tour. This is fun and the guide knows by now we know the process so gives us a bit more history and we have fun discussing the whiskies with her. Even as a medium sized    Distillery it is not owned by a Scot. It is Italian owned, Campari.
After some considerable testing and a little buying, we are by now into late in the afternoon, everyone is a little peckish, we hit the Mash Tun, pub, have tea and soup and then, I drive while everyone falls promptly asleep. Two hours later they rouse, as we arrive in the outskirts of Edinburgh. The car running cool as a cucumber and although now dusk the head lights thankfully aren't doing to much damage to onlookers, thankfully we don't come across any police. We already have two parking tickets in Edinburgh, GRRRR!
Parking in Edinburgh is no easy feat and a few blocks away from the apartment we find a place. We need to be on our way early next morning otherwise we won't make all our rendezvous.
Sunday morning, well not so early we head south, we cross Blackpool area and I convince Tony I want to visit my aunt and uncle, I haven t seen them in over twenty years. I think they were shocked when I knocked on their gate. Half of my cousins and second cousins  arrived within a half hour and we had a short but sweet visit. We needed to be going as we couldn't chance the lights not working or blinding some poor oncoming driver at nightfall.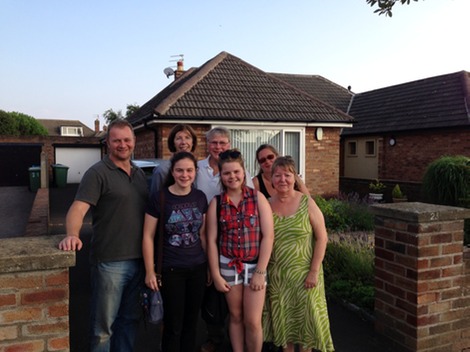 We drove, sharing the drive, to Stoke on Trent before it turned pitch black and stayed at a hotel there.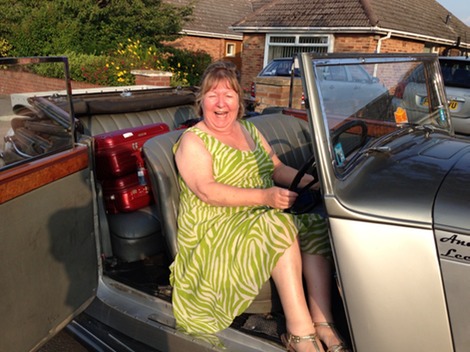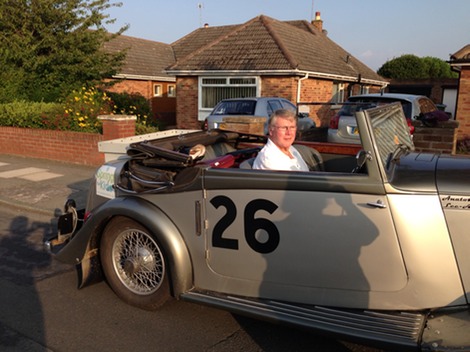 I got an email  from Dirk, a good friend from the Peking to Paris . It was  unfortunate as he had been up in Ballater and the Glen Livet area on Friday too.  He resides in Belgium so it was fun to think we may have passed each other on the highways.
We woke this morning ready for the last part of the drive and I drove the better part of the way back to Britwel Salome and the Priory. I went for a long walk in the morning as nothing opened due to the bank Holliday , I had finally wakened early and later after an English breakfast, we headed off in the car, it started first try, It took about two more  hours, the sun shone more and more the farther south we drove.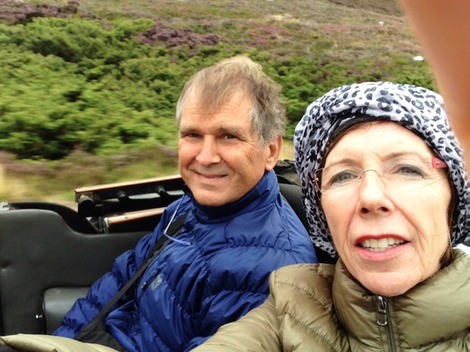 Roads were clear.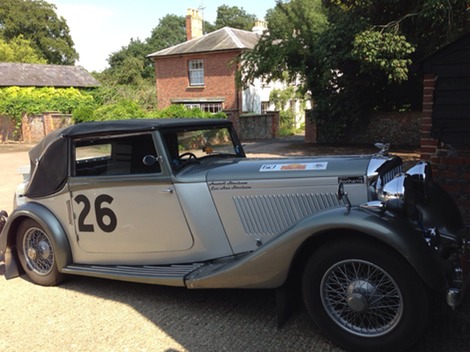 Drove in to Priory and minutes later our taxi ride arrived, its hard to find the barn. Finishing  just under 2000kms later and car '26' is still going strong. It was sad to leave her but I guess we had too. The wedding was just too far and in two short a time. Nothing to do with cars ability or issues it was just time that thwarted us.