Day 30. Schladming- Davos, Switzerland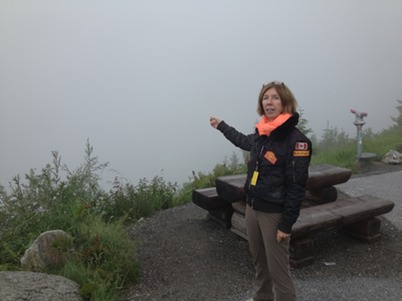 We begin our day at the top of a pass and then we did 6 more. There were to be 9 climbs but the weather just didn't cooperate. I can write this now as I am currently sitting in the Morosani hotel in Davos listening to some nice jazz piano. Life of luxury. Sipping a glass of Pinot noir. Reminiscing already about our day. All is peaceful in the world and I like the feeling. OK enough schmaltz.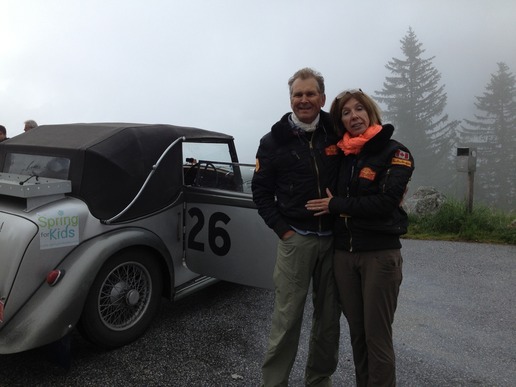 Up at 5:45 am slept in an extra 15 minutes because breakfast was to be at the top of the mountain, what a luxury. After the first hill climb on a dirt wet foggy road that once again was close to 18 percent we could have breakfast. This was our first pass of I believe 6 more although they did blend together a bit after awhile. The wind has been something else and yesterday it was brutal, it really battered against the car. Today we started cloudy but quickly it deteriorated to rain and fog and just a plain misery. Our windshield wipers are pitiable and as the rain drips in through the front window I try to wipe so Tony can see. I place a towel over his knee. It's not only miserable it's 7 degrees and as we reach the top it's actually 0C.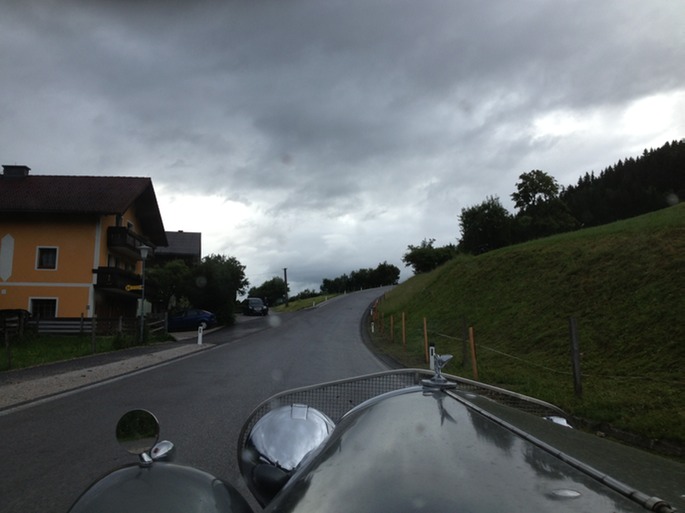 We start this morning in 30 second intervals. It's pouring. The trial requires two stops on route. We must get signatures from the clerks. We round the 3rd corner and about 3km into the trial and a herd of cows jump onto the road and race along beside the car. Boy it keeps you on your toes. One cow keeps up with us for about 30 feet. I wish I had a camera. tony had to swerve and slow to miss. We aren't sure what it will do to our time. The rest of the race is uneventful. Straight up and the car struggles even though Tony has his foot to the floor. Tony holds the corners well and lets the rear end slide round. Our only concern being the cliffs on the side. We made reasonable time other than our stop from the cows. We arrive at the top and meet up with Michelle Mike Phil Kieron and the Woodcock brothers in the Bentley. Breakfast is served in a lovely alpine hut. We enter and they are playing Cat Stevens music. Kind of fun.
Last nights dinner at the hotel in Scladming was absolutely excellent. They served great food and they started with a fireworks presentation of the buffet. We are getting tired of buffets but to be honest last nights dinner was extraordinary .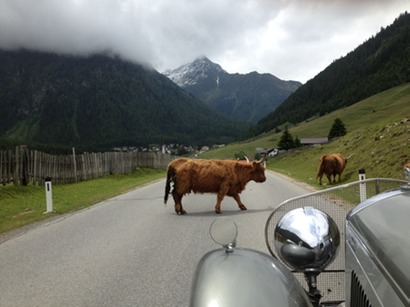 Anyway we ate a full breakfast, it was fantastic at the alpine lodge and then as the next 85-90 cars arrive we head back to the exit. This time they line us up in order so we can get a good start on our planned times. Today the weather may change things.
We head down the pass and onto our route . We head off to our first pass control in the driving rain. It will be a long day, 6 more passes climbing up to close to 2800 metres and then head back down. Hard on those without tops and really hard on brakes. They smell is pretty bad and most people set their cars in second gear to make it down the other side. A few had to pull over to stop and let their brakes cool. We were losing ours a few time but we were able to hold on.
The rain is so bad that they later cancel  two passage control, roads were washed out it  is too dangerous . They close Spiss. I make a  joke. We will Miss the Spiss. Not all that funny.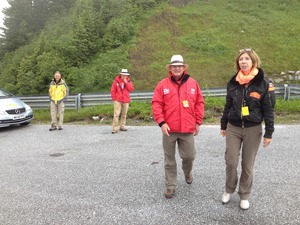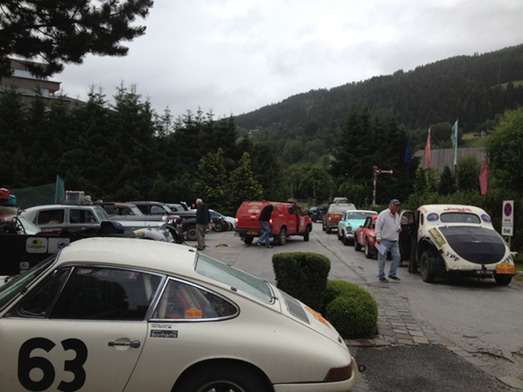 On to our Time Control but due to inclement weather they release us from that too. So by lunch time we are headed to our last two passes and then into Switzerland. Past St Moritz. We form little groups when we drive now. It's fun. We stopped about 60km from the end today to take our roof down when the sun finally came out and three cars stopped right behind us. It's just fun now. It is going to be hard to go back to real life. I will miss the eclectic nature of our group. From all walks of life and from so many different cultures
Yesterday I took a picture of all those  that made the hill climb. I added them to yesterdays blog. i will add Tonys photo now from yesterday too. At the top they served a snack and coffee or hot chocolate in a small alpine cabin.  So many didn't make it here but the ones there yesterday we all know how hard its been and how much we love the competition and the effort we have all put in. It's just plain fun and its been a helluva ride.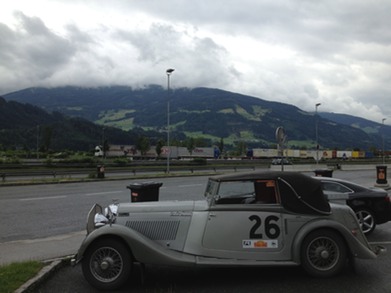 The rest of the afternoon today was spent getting to Davos through Two planned Passage controls.. The last pass was steep and long. A large group of us stopped at Fleulepass(spelling not accurate) right at the top. The Citroen (two) started a snowball fight with the Bentley boys. We were all freezing  fatigued but it was fun. We carried on down the mountain after that and arrived at our final MTC and now are in the hotel relaxing. The sun is out and it is beautiful.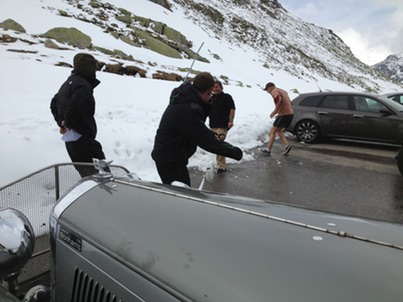 Tomorrows start is later. 8:00am yippee.
Not sure we can sleep in...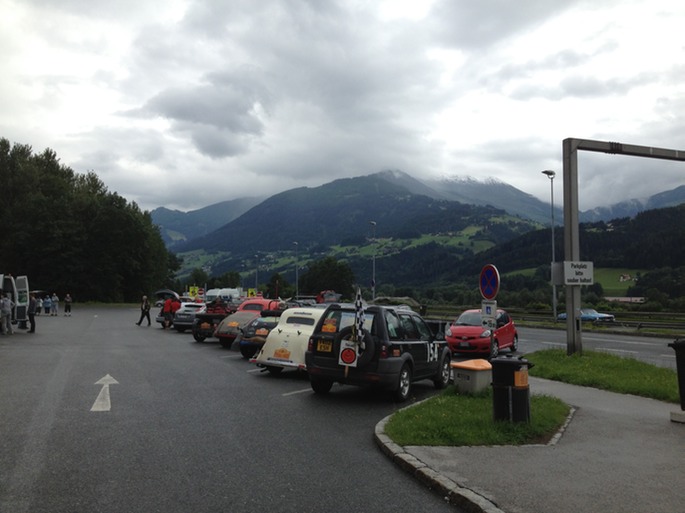 Some other notes- Last night Tony filled the car with gas. It's always hard to decide when to fill the car so we can do the Trials with the least amount of petrol in the car. Last night we filled and we should have looked prior to doing it. We only drove 8 km to the start so barely bled off any gas. Tony bought 100 octane. The car took 80 liters and for buying the new gas. He got a Vpower watch. A huge white faced watch. He gave it to me. Told me he got it special. It has a Shell insignia on it . So caught him out.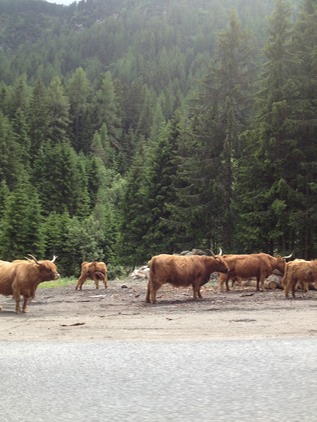 Have to wait now for today's results. The controversy continues on who's first but for now we accept second. We will see how we have done at dinner tonight. It will be difficult to catch 4th place overall  today with only one registered race. We are nibbling at his lead. How ever in theEuropean championship. The hill climb speed will determine our placement. Not sure whether the cows will have delayed us enough to lower our scores.
Crossing into Switzerland The Swiss auto club has made us very welcome. As did the cows today. These ones are an unusual lot. Look like Yaks. Many, people not cows, lined the streets to greet us right from the border. Some of the competitors say they can't believe the star status we are shown. It is so much fun. A little embarrassing.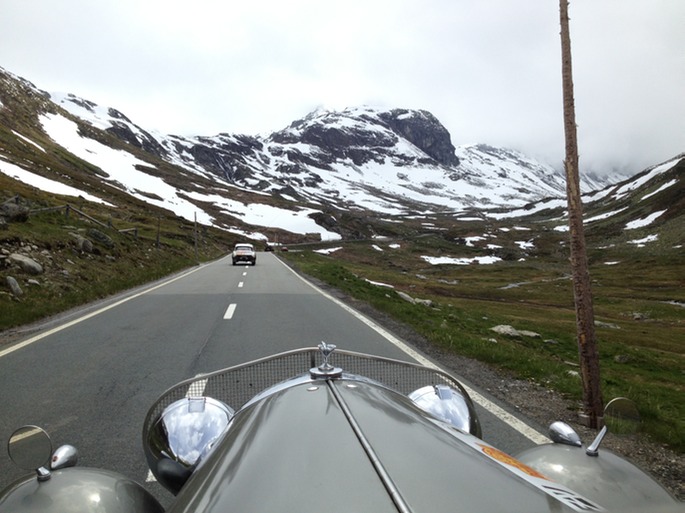 Anyway, back to reality in a few days. For now we are third in class, 5th overall and 2nd in the European Championship. . Time will tell. Tomorrow is a big day for racing. Three major time trials and a time control. We hope that the weather holds so we can get the various races done they have organized for us. According to the blog they have us fastest in our class on the track. Will have to see what the results are for the hill climb today. We need a minute and a half faster than our nearest competition. I think the results from yesterday will hold.
Better go find Tony. He was off to change and look at fluid levels. Tomorrow will be a killer day. Our last chance to move up I think. Lots of races and passage controls. Keeping our fingers crossed nothing gets cancelled.
Lee Ann
Time stops for no one...