Day 31
Davis-Gstaad
Not sure it could have been any harder. This was a day that threw everything at us. Just can't believe it could have been this hard. Here we are on day 31 and you would think we have seen it all. Well we hadn't and I think a lot of standings will change today.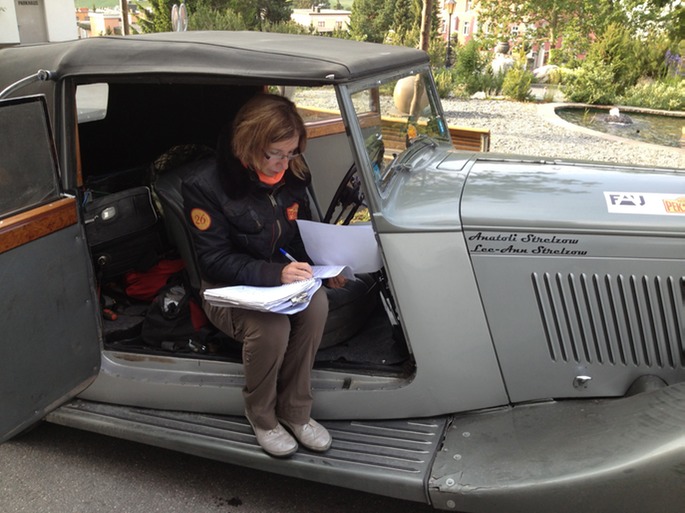 We got to leave at 8:00am or officially drive out for us at 8:05-. We hold onto 5 th overall. We had an excellent time on the last hill climb yesterday and only a few really high powered cars did better.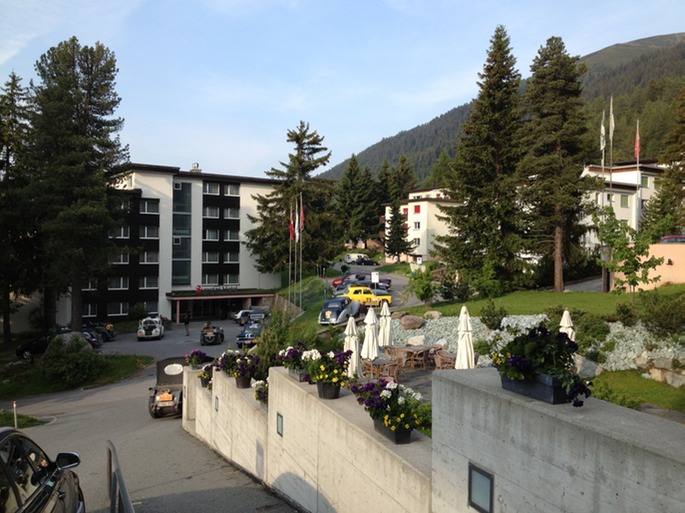 So this morning we started at the track. We dumped our extra wait on the side of the track and come to the start line. Again they complicate it with a cone double hairpin then four tight 90 degree turns then a double back, before a series of cones which are staggered then stride a line before starting up again and weaving around. We did it in 1:35 seconds. I think it was pretty good as when I spoke later to others they were over 2 minutes. This was clearly going to be a killer day. We then had to make a Time control 75 km away. We were behind car 30. He was late so we picked up a 6 minute penalty. Yuk,
Onward to the next event 150km. In between we had two passage controls over passes. We climbed st Gottards and one other, the name escapes me on their secondary roads then flew down the other side with our time cards checked. 
On to race two, or trial two, this entailed traveling into Italy on an old pass which was cobbled stone the route was switchbacks every 300 metres straight up. The road wasn't closed so we had to watch for traffic. We came across a truck two cyclists and three cars. We honked but it takes time. The route was amazing it was cobble stoned and rickety.  We had to do a base time to keep it saf, which was 7:00minutes. We did just over so we were pleased. tony loved this one.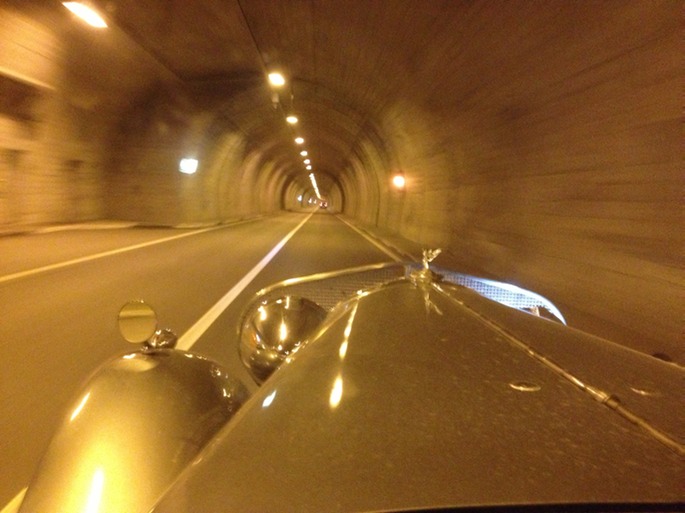 On to another time control but first we had to find gas and then our generator light came on. Now what. Could be a loose wire again we hope.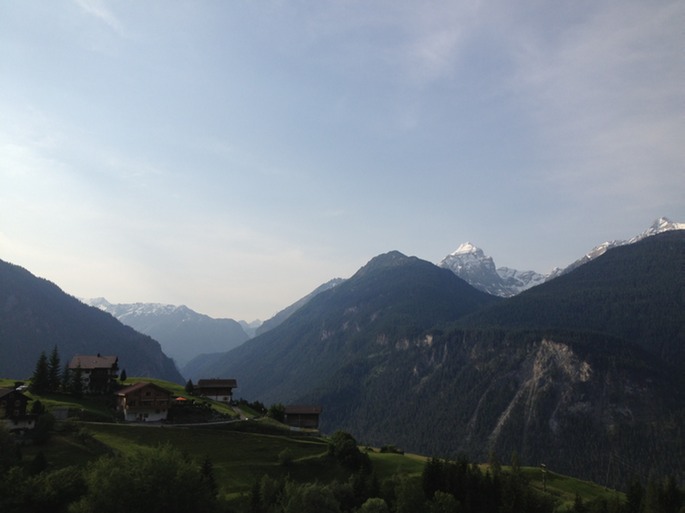 The fuel pump is making noise so we are switching it more frequently now to the auxiliary. 
We have not had a break since we started. Tonys hand is swollen from the jack handle hitting it and he has been taking more ibuprofen. To get started. We are both physically ready for a break.
The gas station is closed where we want to get gasoline, now what we are out. Finally we figure we can do it automatically but it isn't well marked.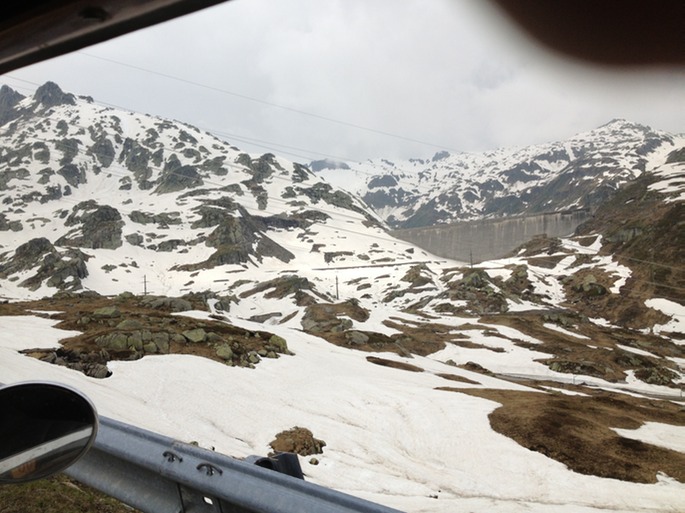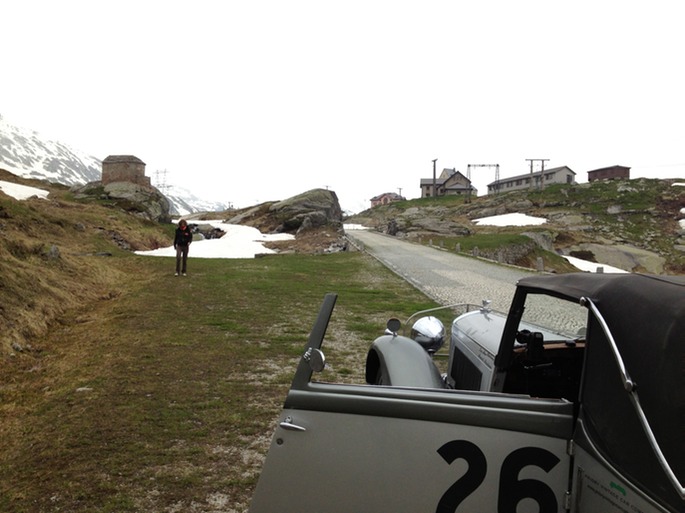 We charge out of the  station onward to the  Passage Control and then Time control.  We grab something out of the back of the car. Some peanuts and a drink and charge on. No time to start or stop. Off we head and arrive just at our check out time. I had the chip and card and we are given our exact  We are one of the first to arrive. My gosh what are the rest going to do. At the top of the next pass. Car 30 flies by in the opposite direction. Oh no, have we made an error. I ask Tony to stop and double check my navigation. It looks right but they are in first place so one second guesses what we should do.  They stop and Kieron looks puzzled. We chat, well two seconds as we all know time is tight and decide to go in the direction I think. Four other cars catch up. We all head down the pass in the direction of the next time trial.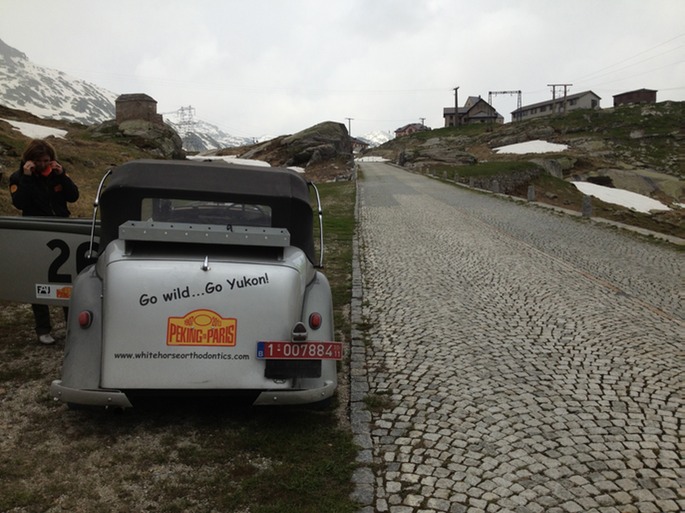 This one is high a top Verbier , st Bernard's pass and up the old road which is really little more than a dirt track. We head up and the time trial has to be cut short as the clouds now shroud the top. What was supposed to be 13 to 15 km ends up as about 7km and even so into the clouds.  The starter has a helper who puts a metal brake like in formula one behind the shell to hold us from sliding backwards. That gives you an idea of how steep it is. We get our start and head off. We are warned to take care at the summit as it is clouded in and a cliff looms at the top. Sounds ominous but on we go. So many are just touring now there are more and more that have dropped out due to mechanical or just not keeping up. We understand Gary and John may be having their car towed now. Yesterday something gave up. So many are just hanging on. Lets hope we can get everyone across the finish in Paris.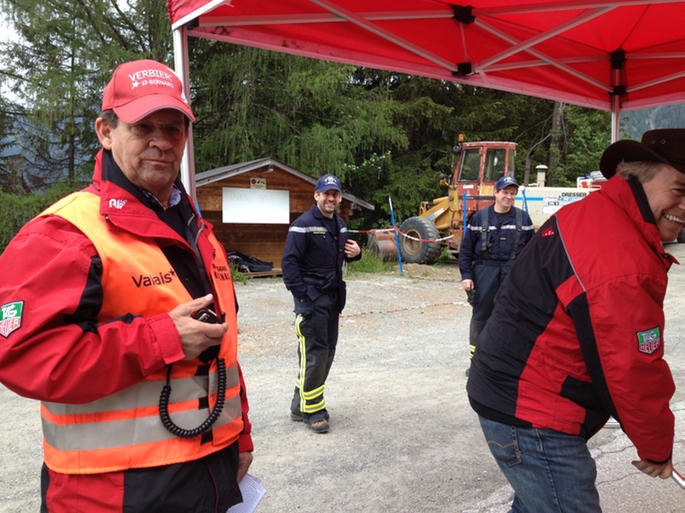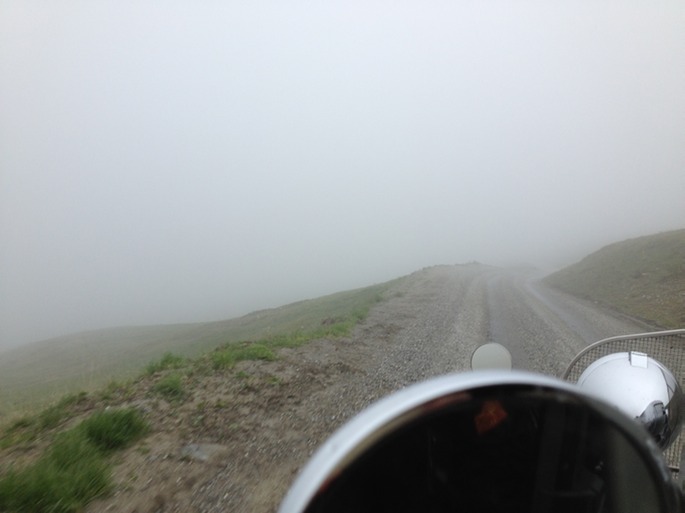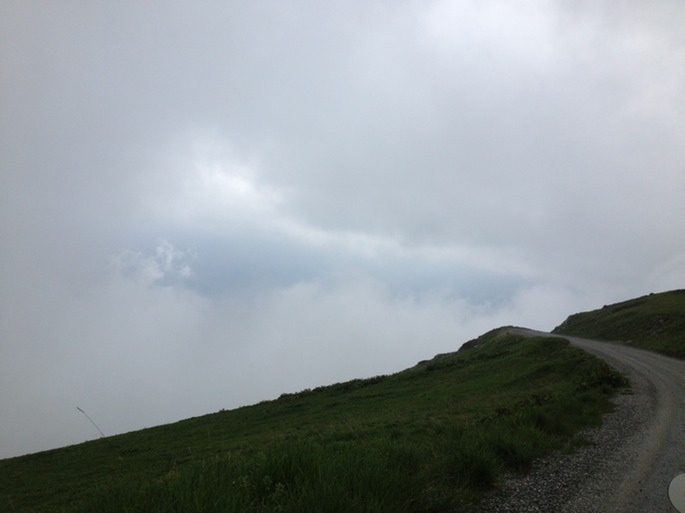 The route was horrible on this last time trial. We bounced as we had in Mongolia we twisted and turned and slide everywhere. The road was oily and wet at each turn. Tony had to go into 1st gear. He says are gears are not feeling good and they are not engaging. We can't really downshift well in the Bentley. It is two old. He has to go on this hill into 1st gear. This is a first time for us. The clouds loom above us and we can see them coming. We slowly creep upward sand finally round the top a few hundred metres from the summit where we can't even see the B of the Bentley  at the front. The cloud is so think. We are warned that the summit is dangerous so we slow and although not a crawl it definitely slows. We pass the finish to cheers. We are close to the front group. Not sure how fast our time is but it was what we could do and nothing more.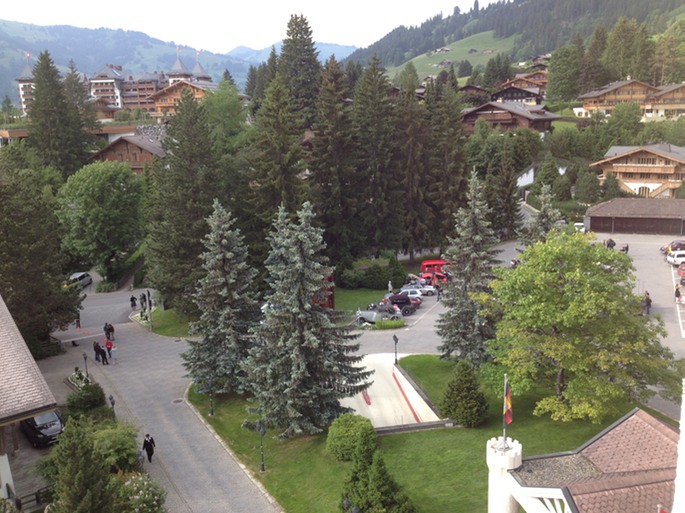 Now to head to the next passage control and the final time of the day. It will all be rushed. We fly down the mountain and head for Coeur de Croix. Then to the Gstaad Palace Hotel. Wow is it beautiful . I took some pictures of our room. We are now being entertained by Bonham's, wine, cheese etc and some great music.   We have one time trial tomorrow but other than that and the Passage controls we wait now to see if we caught car 12 and  how we did in the European Championship. Should be interesting.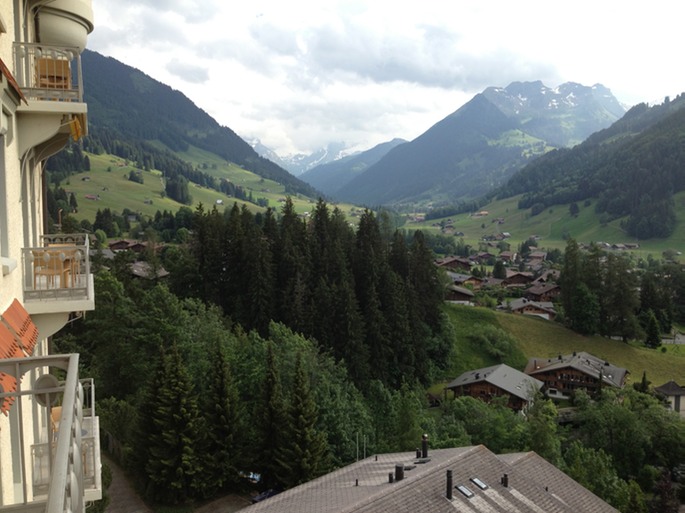 We are listening to some great live music from Bonham's who are the Sponsors and treat us all to  wine and treats. 
Wow do we all deserve it. The atmosphere is electric. What a beautiful setting. Our room is beautiful, the food is magnificent and the service exquisite. It is truly Swiss. Very well done. What a beautiful country.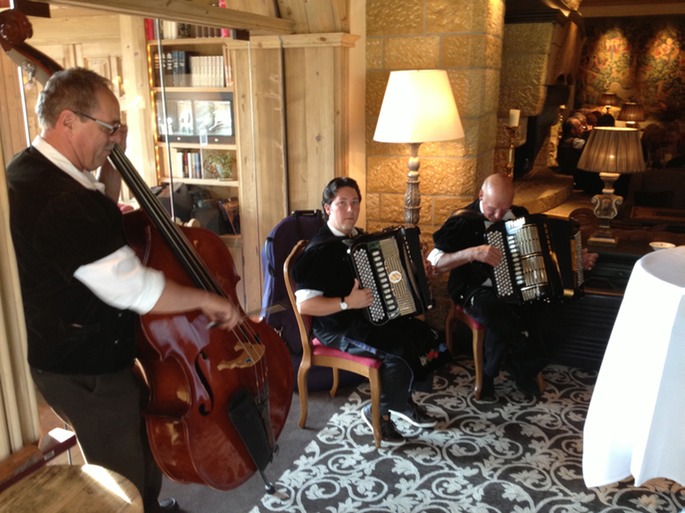 I can't believe tomorrow is our last day. It has gone so quickly and yet it seems like a life time....it has changed us, not obvious but I think many will say it has been an experience you can't really explain. It has brought all of us from different countries together like a family. We have had a death, a break-up in a couple and at one point we heard a rumor that one couple got married but that turned out not to be true. Like any large group rumors fly.
Thinking now of what comes next. This will be a hard act to follow. It has brought us closer together, it wouldn't work unless you can work to a common goal.
We did and enjoyed every minute  of it.
Lee-Ann 
What's next!