Day 29 Bratislava to Schladming. Austria 
Race track and Hill Climb   being chased by others now...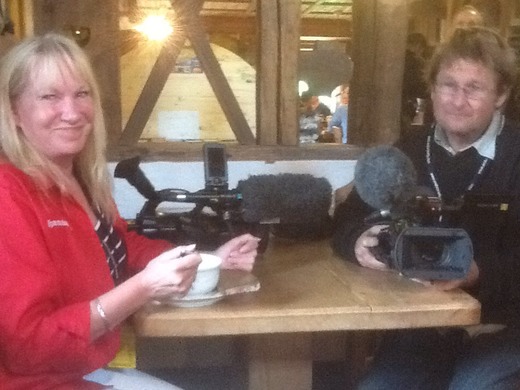 Tony was so exhausted last night he mistakenly set the alarm for 3:00am. It is loud and it is irritating so ouch at 3:00am we were both awake.
Tried to sleep but just dozed after that
On a positive note, we discovered that we were 1st in the European Cup Quest. Had a host of congratulations this morning. It is by a slim margin and some of the races to come we are not well suited to so I guess we will see if we can hold on until the end. 
We have breakfast and decide to check fluids etc on the car. Yesterday was hard on the car but today we enter the alps and we don't use highways. We climb 4 or 5 mountains and have 2 TC and 6 passage controls. In other words we drive from 7 am to 7pm. We can take minimal pee breaks and fill the car once, without delay. Otherwise we drive, we race all day. Under 500km so it's a light day. Haha.
Tonys arms due to switch backs are killing him. I gave him some ibuprofen to help. 
Yesterday we also gained on our closest competitor in 4th close to 22 minutes, still have a ways to go. We sure can't afford to have anything break or make a mistake.
The first time trial is 30km outside of Bratislava at a race track. They set up cones for us to drive around on the track, there are  various obstacles and rules to drive and then you go like mad together but spaced around the track as fast as you can. It's short intense but a blast.
We finished there, quite pleased it had gone well and even passed the 4th placed car and then drove like mad to our next time control. We literally drove over three mountains down tiny Austrian roads to make the final Passage control. We made it only to be told that the TC was cancelled. A bit disappointing as we all work so hard to get there on time.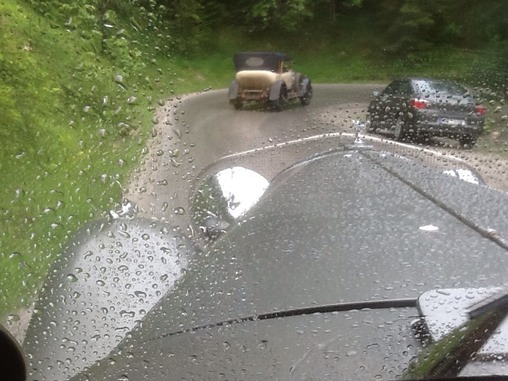 Later in the afternoon we arrive at this amazing Hill climb. I am not sure how to describe it. The grade is more than 12% it lasts 9 km and their are no real switch backs or reprieve.  You drive with the car between first and second gear at times and your car strains. Add a cliff on one side and a very narrow road and you get an idea of what it's like. We have one tomorrow morning too. It took us over 11 minutes to drive and at one time we almost didn't make the turn the car is too long. Great Hill if you are a Porsche but not so great in any of the vintage cars. We lumber have no synchro mess and loose momentum. At the top there was a hut and we were treated to a break and a hot chocolate. We are in snow, it's foggy and drizzling mixed with snow. It is cold. At 6:00pm the road is opened and we all go down the hill tentatively as it kills your brakes.
Not sure how well we did on this but hopefully OK. I checked around and many are around our time. We are all so close. Holding on to a top position in the European Cup will be difficult. It is so dependent on the cars ability, the navigators ability and drivers focus. Tony is a good driver but he is fatiguing and his arms are so sore from the steering which continues to get worse . He feels it is so bad that I would not be able to turn the wheel. He is now driving all the time. The last time I drove I was asleep like him by 8:00pm and that's a few days ago.
I just noted the results after dinner, we have moved to second in the Results but not sure why. We have moved up closer to 4th overall which is good. There is a query about the person who has taken over 1st in the European Cup. Not sure where it will go. We are certainly close.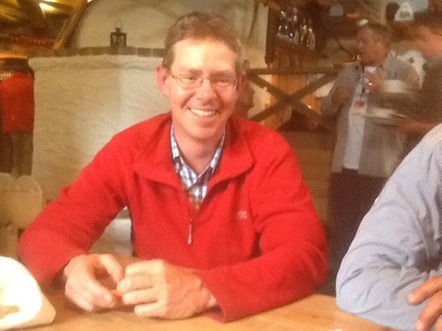 Car 30#. red fangio Chevy driver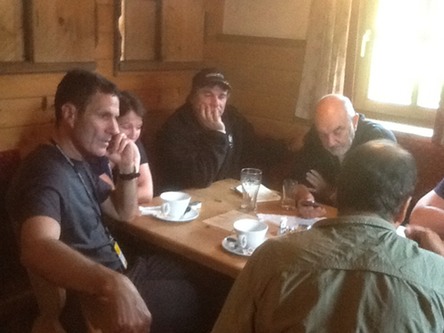 Break at the top of the hill climb
Lee-Ann 🏁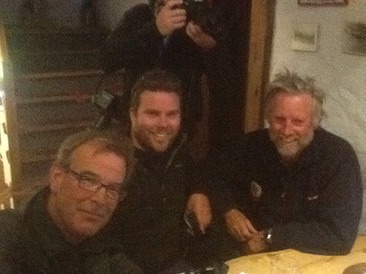 You can't always get what you want
But if you try sometimes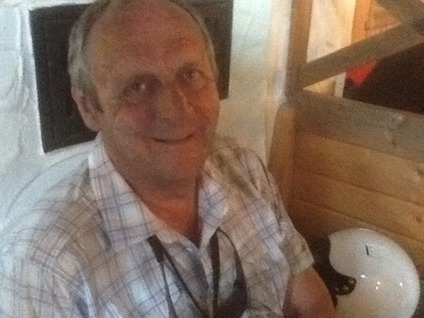 Peter Lovett
You get what you need