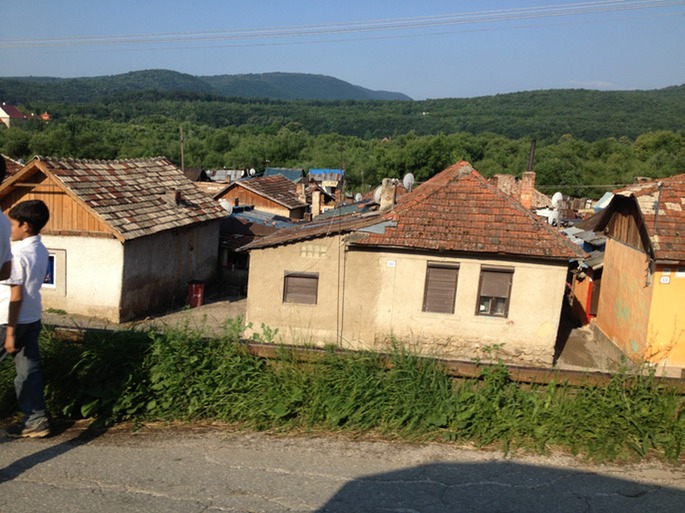 Day 28 Kosice to Bratislava
Five races today and time controls. It could be are hardest day yet. We raced well yesterday and wish we could have slept better but we do what we can. Sitting in fifth but consistently beating 4 th place now. It may not be enough. Some mistakes we made in the early days have cost us but to be fair we never thought we would be where we are. The tension is definitely building and after each race people want to know what you went. On the time trials.
The clerks at the course also are asking which heightens it a little. As they say its never over till the fat lady sings. 
Up at 5:00 am out at 7:06. First  car leaves at 7:01am. Off to the first three time trials. We note the TC is also set early so this will be a tight day.  Once again the organizers are switching it up for interest. 20 km out we notice car 38# Michelle  Jana Chan off the road. We come on them too quickly to see why? I had my head down and didn't see till we were past. Tony missed them entirely., he is so focussed on the road. Then 20 km on car number  30 the red Chevy fangio, currently in first place is off the side and  and I think Kieron is under it. OH now, how quickly things can happen. We make the start with minutes to spare we arrive with the Bentley Boys and the KIWI's so aff we go. It is climbing and then down hill about 9 km. The semi dirt paved roads have grades of 18% some feel like more as we slow to a snail. Tony takes the tight turns like a pro and his driving skill shows through. As Udo says we are all limited by our wheels., we go fast and watch behind for the car and no one shows up in the minute so we know we did well. On to race two 35km away. Again not many here now we are second to take off according to the clerk and this route is again twisty and turny but Tony seems to be able to skid our corners so we also use the gravel and sand to move us. We finish in under 10 minutes. I think that is OK for our big beast. It won't be first it its not bad though.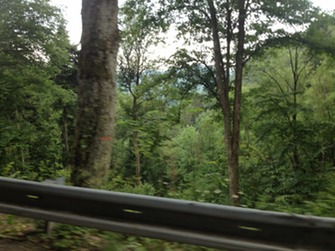 Third race of the morning is less steep but the road is narrower and treed. Rough but straighter. We have 5 time trials so we hold on to the car but try to save brakes a little.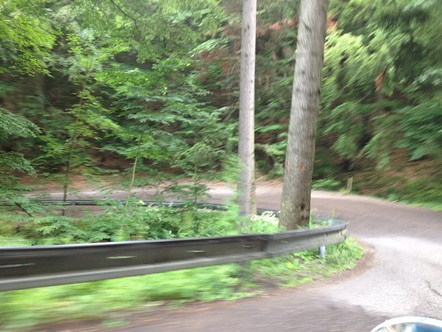 Now to make the Time control. Still no sign of 30 or 38. We arrive at time control with less than 5 minutes to spare. We are supposed to leave 5th on our time of 12:21. Seconds later in flies car 30. Their clutch cable had snapped  and they had difficulty repairing until  the Riley stopped and gave them a hand. They made it, now where is car 38. We left at our allotted time but still no car 38. Not sure what happens. We had to leave and on to next. I grabbed two ice creams and we stuffed them in our mouths. Off we raced out of the Control to next Time trial.
This one was hilarious. The starter  offers us toilet paper, as they say its really narrow and very bumpy and steep. A little scary was how they put it. Only 6km long but what a road.
Yes we  rounded a few turns there were precipices and the road was very narrow and tight but Tony had good control and we actually did well. It did seem like an eternity as the steepness and the bumps made you keep the speed down but we skidded to a stop straddling the finish line which is now a rule where you lose points. The clerk showed us the toilette paper hanging by the finish and we declined. I thought it was fun.
So, our last race is on the track. We arrive on time and set out to have a class, sign some waivers and then hit the track. 7km of winding twisting track. Tony is exhausted but we know that this is a race we need to do well and hold on to a good position.
It was not a great course and just off the first turn we come across the silver bullet the wheel has just fallen off. They had gone 1 minute ahead of us. So sad. They have battled so much and worked so hard with the Riley.
We head off to the hotel, another 42km to the Carlton. When we arrive the rumors abound we are hugged and told we must be winning. I don't think so, I reply.
Rumours have it that car 12 was delayed and had acquired a large penalty. We know car 38 had been towed so they will have a big penalty. Beers are bought and we celebrate hearing all the stories of the event. We are a big family now. How do we ever share this experience. How can you explain what this is like. Dinner is on
Its 9:00 tony is asleep and I am half asleep will try to stay slightly coherent. So exhausted.
Just checked results, we have gained considerably.  Seemed we did well. So many got penalties so many with car issues. Udo and Peter had a problem but they will be back tomorrow.
The weather is terrible here, stormy and rainy and not sure what will happen tomorrow. We need to rise by 4:00 am to get to the start. Wow,  got to go to sleep, so much to tell so much to still do.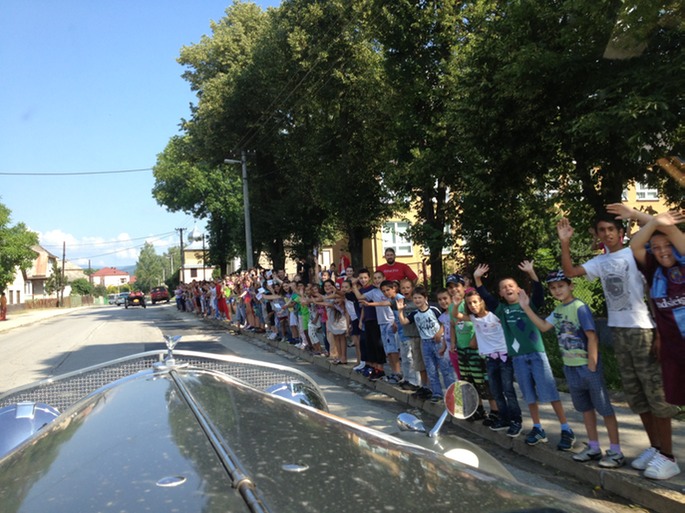 Lee-Ann 🏁