Day 23 Voronezh to Ukraine-Kharkiv. 407 km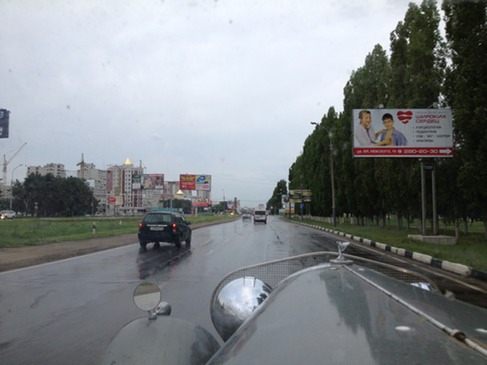 Track day at the border Belgorod race track. First formal time trial on a race course, only 323 km to get there, though. I think there will be more to come. We rose at 5:00 am, thinking we were early but the excitement is such that most were up and ready, and in the dining room at 5:30 am. We even heard a few cars taking off as we got out of bed. We are all a little crazy.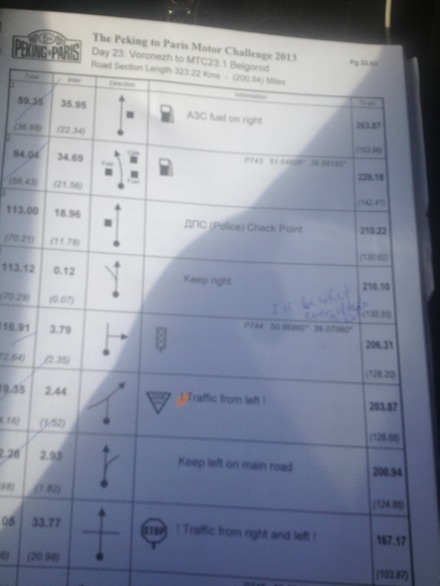 The other  orthodontist Peter from Germany is in car #10, with Udo he met us at breakfast and said its amazing we are driving 22 days and we haven't once mentioned orthodontics. Yes we are all living in the moment. For us tire pressure and springs, for others shocks and fuel lines or differentials are our immediate focus. We are a motley crew and most people will have no understanding of what is happening to us. I can only say living in the here and the now is refreshing, as we are so often so future oriented.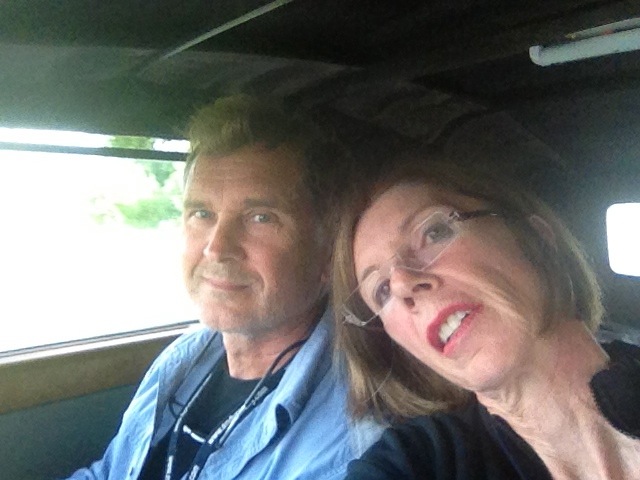 So off we went after breakfast, just after  6:00am after checking our results and the updates from yesterday. We have held onto 5 th but realize how close we all are and there is still 10 days to go or 2700 hundred miles approximately left to drive. The next stages are quite different. We hope the roads are better and the showers. Russia has many infrastructure difficulties, hot water,clear water( its usually brown) roads and a weird payment structure at gas stations. On the other hand, there is a child like exuberance amongst the people that is sometimes overwhelming but most of the time it makes us smile and a generosity that you can't help but appreciate, since we are the recipients . Horns honk as we pass, people arrived this morning at 5:30am to send us off.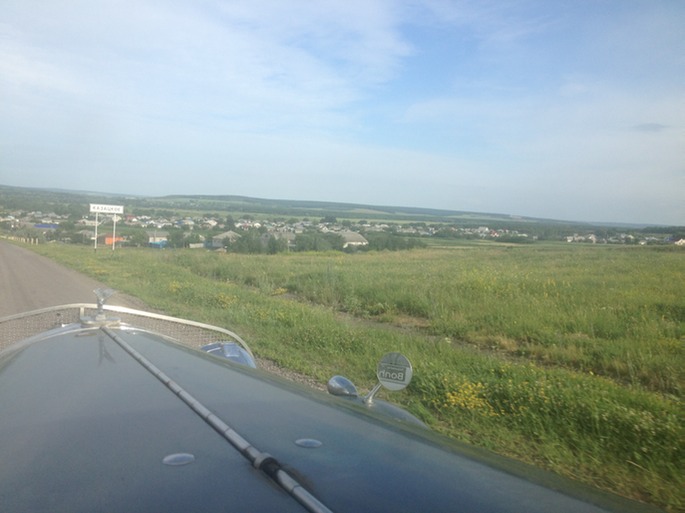 We are much closer to Moscow and you can feel the change, I am writing this in the car. The roads are better, things are definitely more affluent. BMW's Porsches etc are appearing on the roads. After all Russia now is second in the world with Billionaires after the USA.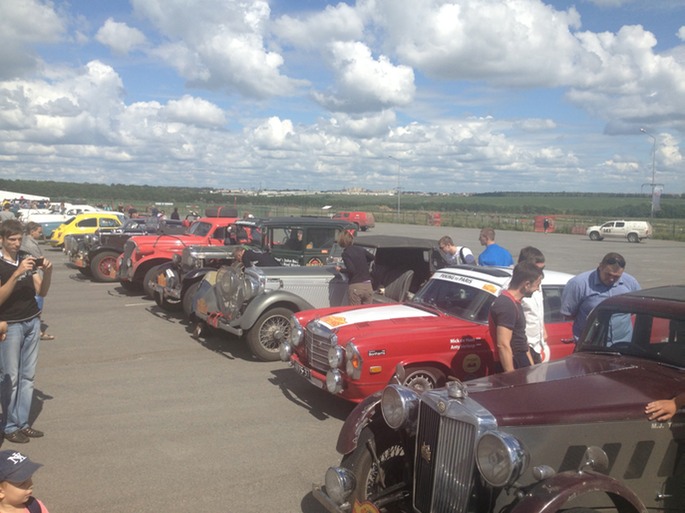 OOPS spoke to soon, back on the Shi..y Russian roads.wow! 💂
Back again...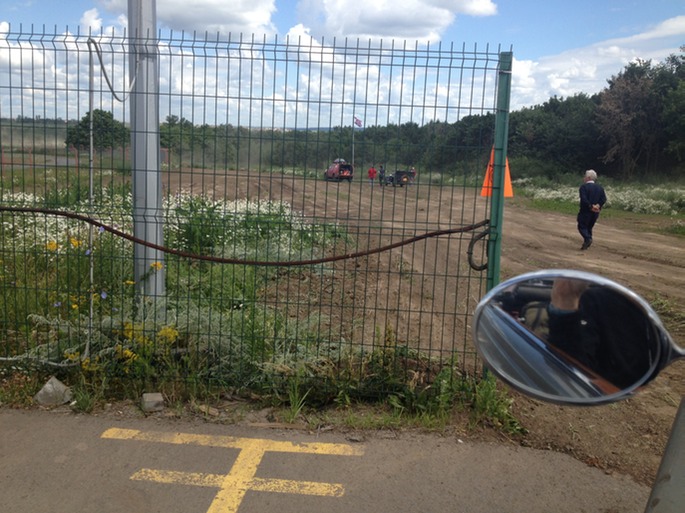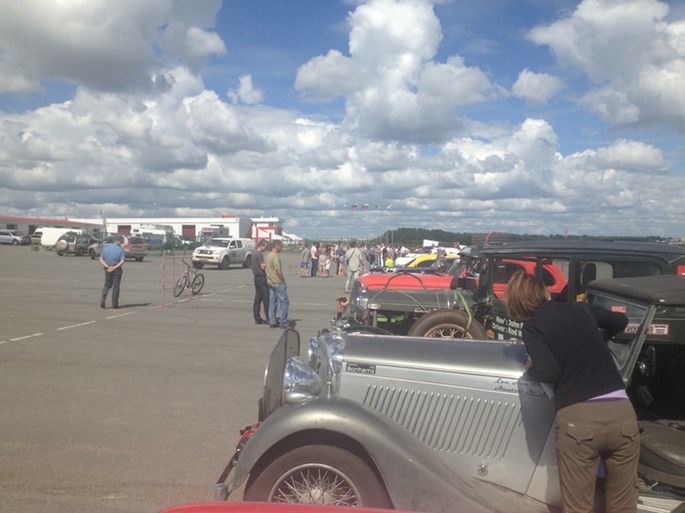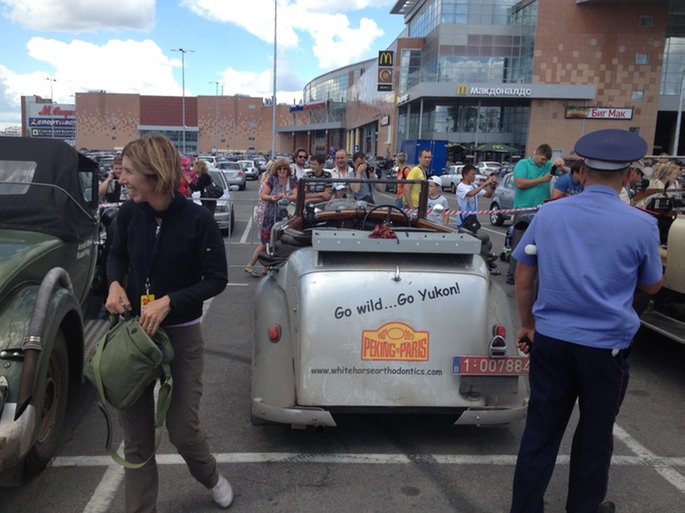 We went off at 30 second increments, the track was more like a go cart track. The Bentley and all the old cars can't turn their steering hard enough we were flying all over the road. We are in bench seats so with each twist and turn it was 'Come over Darlin' at one turn on our third lap when Tony was getting used to the track I put both hands out the window and held onto the door for dear life to stay over so I didn't squish him. He was able to brace against the steering wheel but I could see him straining to hold a line and not send us careening off the road onto the apex of the turn and the cement strips. After three times around the track we blasted off and were sent to the off road section. It was like a motor cross. No instructions just go and drive on dirt and sand for 4 km as fast as you can, twisting and turning as every 50 feet. The car slide sideways I tried to sit high to see if I could see the next corner. We push hard and although we have little acceleration, I know Tony drove well and consistently and held a good line. On the track we entered just behind car 38, she, Michelle Jana Chan is doing a documentary for BBC. Afterwards she said her heart was pounding. They came up on us quickly on that first turn. Their car is more powerful and we tried to point them past but the track turns so quickly and these are not set up race cars so it is difficult. They are currently in second spot in Vintage C2. Once we got to speed we caught the car in front of us, who is 4th overall.  Car Number 12 the two Aussies. We both raced for the finishing flag. Everyone had huge smiles on their faces. It was so much fun. Meanwhile we had a helicopter buzzing over and around us while we drove. The organizers sure can make this exciting after a few days of cancelled time trials and the horrible accident it has been difficult we all let loose and had a great time.
I was interviewed by Russian TV just before the start. They are doing a spot on the race. I called Tony over to help translate and they interviewed us both. He chatted away to them in Russian which they loved. Whatever stories he told they were in stitches. Anyway I smiled lots then they switched to English and wanted to know what it's like to be a woman in the race and how I cope. There aren't many of us and even fewer now that so many cars are falling apart. .  I got to meet the track owner, we wanted to unload suitcases, prior to the track time trial as they really weigh the car down,  so he permitted us to store our luggage in his office.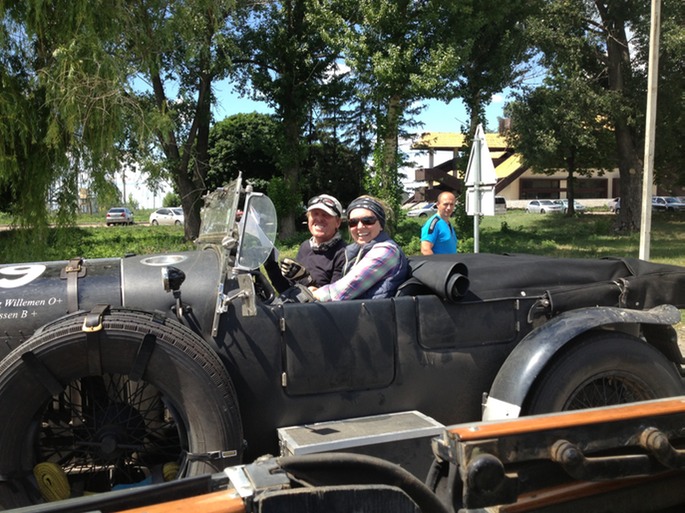 CAr 99 just after the border into Ukraine . Anton and Inge.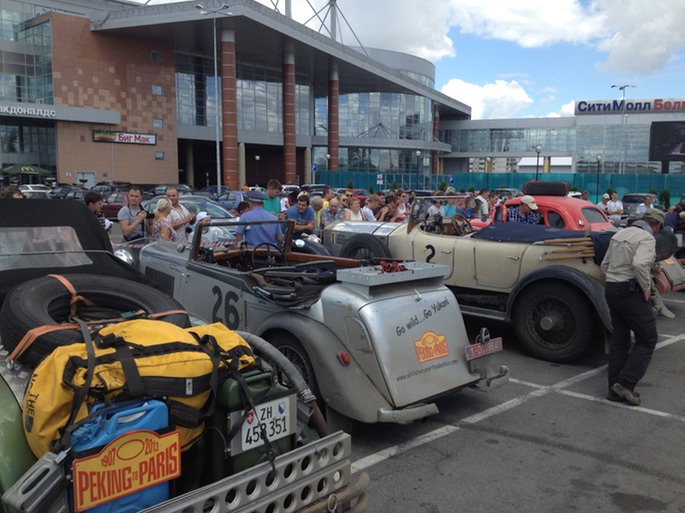 The Bentley's are dwindling  in numbers now too. We parked together this afternoon.  We will pick up Lars and Annette again  once we reach Kiev we hope and their differential is fixed. They looked so sad as we left them in Samara.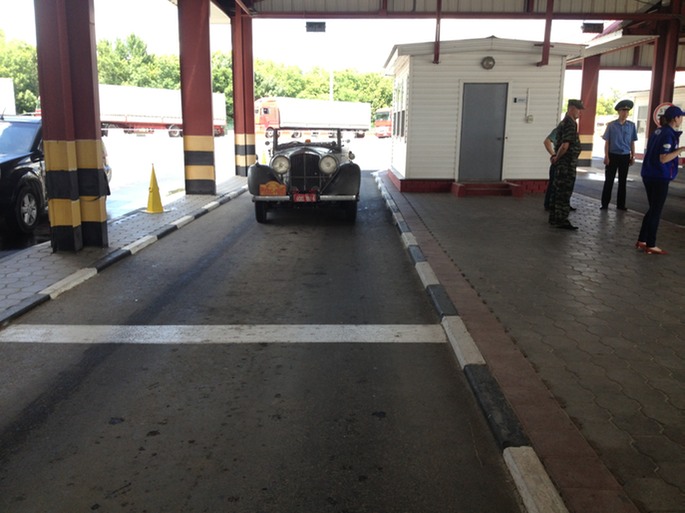 Time change again another hour back as we crossed the border so we were able to relax even more this evening.
No new flats today. That's two days now no flats. We are celebrating.
We crossed the border into Ukraine with little fanfare, unlike the last time this race went on where I understand it took 11 hours. (Rhys told us this in car 29).
Finished the day, what an experience, what a welcome. Arrived in Kharkov, it's a magnificent city and so sophisticated. We have arrived in Europe that is for sure.The welcome into town  was phenomenal, they had gold medals, hats t- shirts and all manner of gifts for us, plus pretty Ukrainian girls who we were photographed with. Our heads are all swelling with the attention. Fun while it lasted then POP, we are exhausted and the car needs work. This is a beautiful town and the hotel is 4 star. Service is exemplary. We are sitting now after taking care of fluids, cleaning windows and adding oil on the roof top garden of the hotel. I'm having a glass of wine, Ukrainian wine too, and enjoying the magnificent view.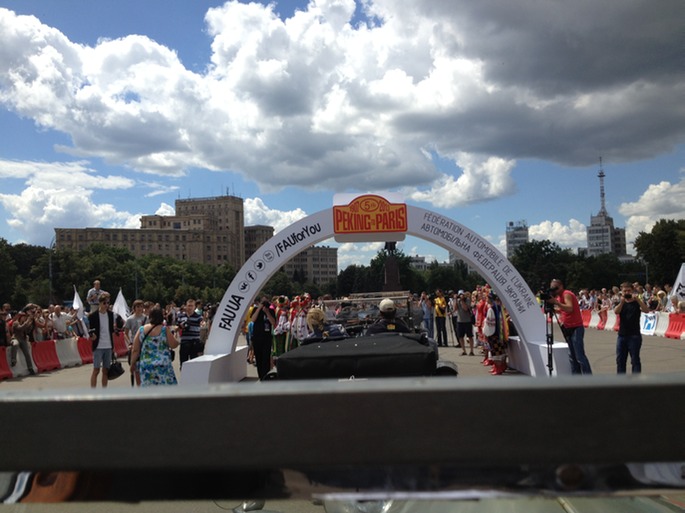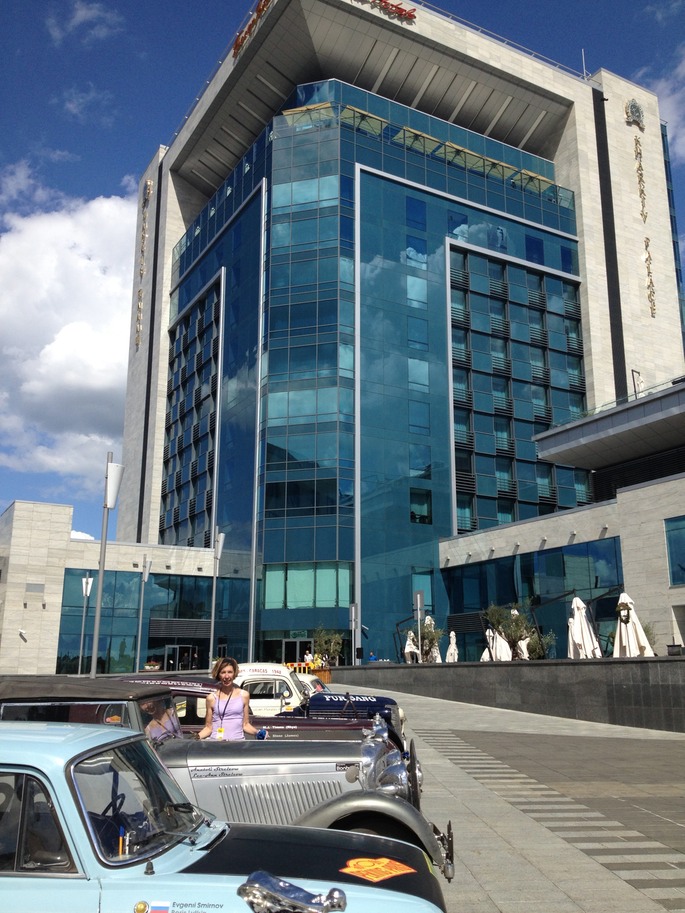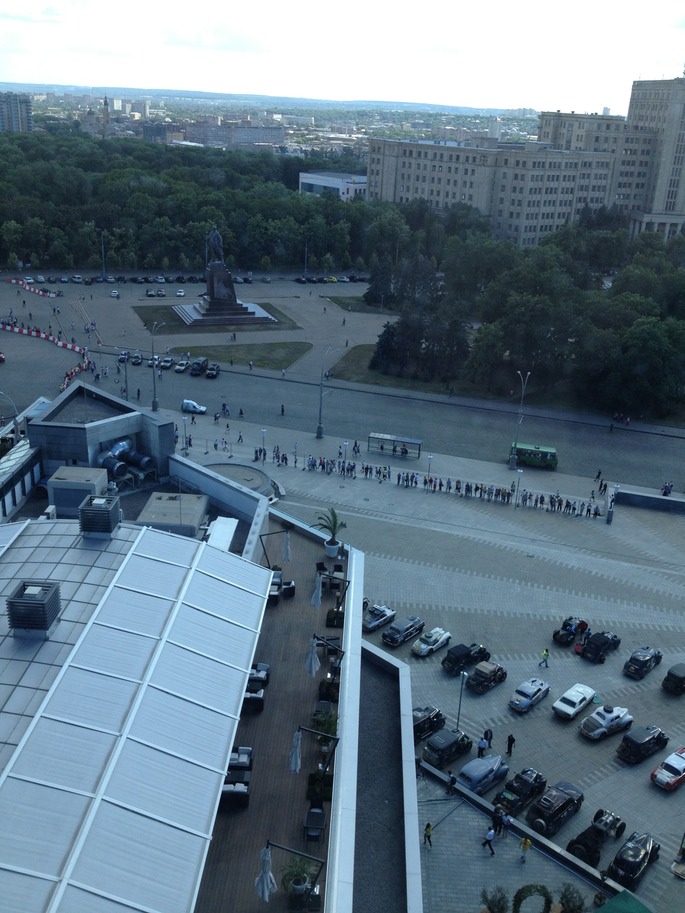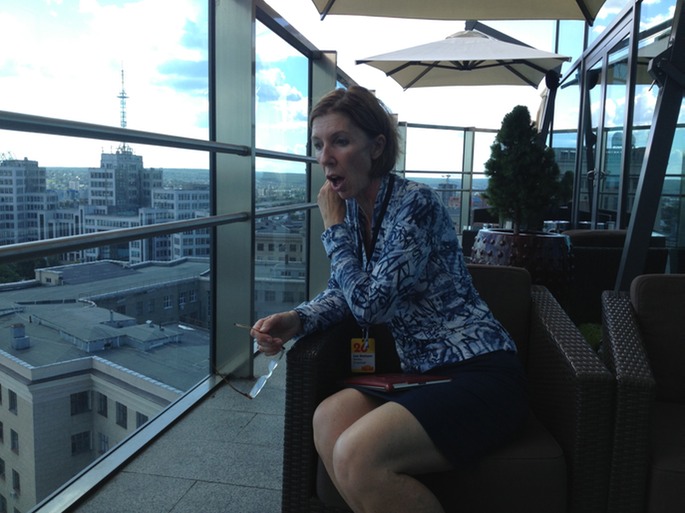 Tomorrow we head to Kiev and hopefully our parts will arrive, so we can remove the wooden broom handle holding the spring. We have a new noise in the car which is a little unsettling. It sounds like a bicycle chain that has come off and his spinning loose. Tony looked but can't figure it out, can't find anything but we hope it settles down. It is by Tony's  feet. Any suggestions are  appreciated? Starter,gears, clutch, synchromesh????
Race results were posted just before we went off to bed. we did well. It is ard to catch the faster CHevy in first place and Ford in second in our class but gaining on fourth place overall thats for sure. held on to third in our class. 9 days to go...
Lee Ann
I am, will be, 
whatever works for you.