Day 22 Saratov to Voronezh. 
608KM to go today.
There are these moments that are just so right. Last night was just such one. Car overheated, us overheated and then we get sent to another hotel after having our time card stamped at the Slovakia hotel. We get back in our scorching car and have to drive through rush hour traffic to the Pearl hotel. The streets are mostly one way, cobbled and slow. The car stalls and has difficulty restarting we cant shift as the shifter  is too hot. We miss a turn and are lost a driver offers to guide us right into the parking lot. Not sure someone would do that in Canada or Europe. Anyway, we are one of about three who have arrived. We schleppe our bags to the desk and are handed to glasses of cold water. Wonderful. The Russian agent Anna is with us now since we crossed the border and she is by far the most helpful and thoughtful. Helping with translating getting taxis and generally making sure we are OK. We are exhausted mostly by the heat but relieved and then we are shown to a lovely hotel room. Things are looking up.
Anyway I digress, it seems there is a small contingent of us at this hotel. Quite a few couples are here. Model T (Nicky Bailey / Nadja Saralam)
Datsun 510 ( Paul Kirkham / Mariella Kirkham) the ford coupe number 38 ( Mike Reeves / Michelle Jana Chan) the reinstated car of 49 Phil Cuerel / Rela Hoenner-Zullig Porsche 356. They had a new engine flown in to Samara along with a mechanic to install and now they are flying again.
The evening was lively but made especially lively by the humour of the two in car 22 , Philip Noble / David Brown Rolls Royce Phantom II. Their Yorkshire style repartee was hilarious, they clearly have known each other for eons.
 Then some of the crew came in. Our rooms were lovely spacious with small sitting areas. Later I heard how lucky we were. A few of us went for a walk and were delivered to a local brewery restaurant. We tasted the local ale, lagers and brown beers . Then came back to a sit down dinner. We are all tired of buffets. The food was really good but the socializing was the best. The two rolls Royce guys Throw barbs at each other only the way the English can. They reminded me of Morkem (spelling) and Wise comedians.
Nadia told us about a few of the competitors who came in at the end of the day on flatbed trucks. Some due to heat and others the constant pounding of the roads.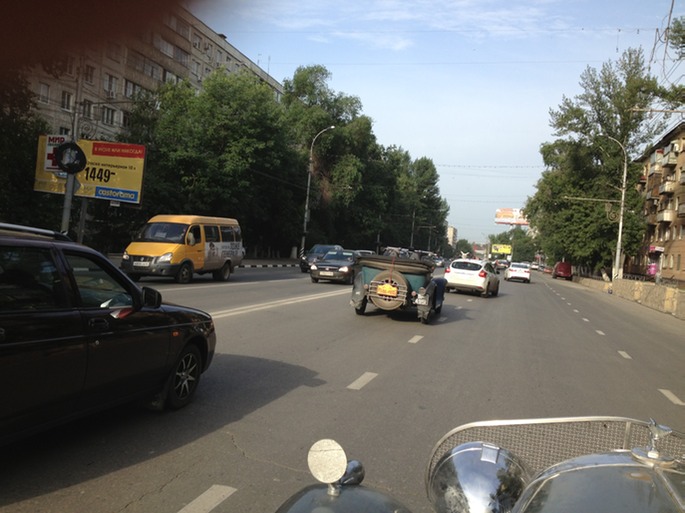 A Mercedes had their windshield smashed and the damage cut the co driver. The Riley came in on a flat bed with a broken crank shaft. That's sad as they are such great guys and they work every night to keep that car on the road. Nadia said they would work all night to get it right. We often see them many times each day as they are up with us at the start. Their car has been disintegrating before their eyes. It is such a neat car.  They were there this morning but later in the morning about 11:30 we saw them on a flat bed again.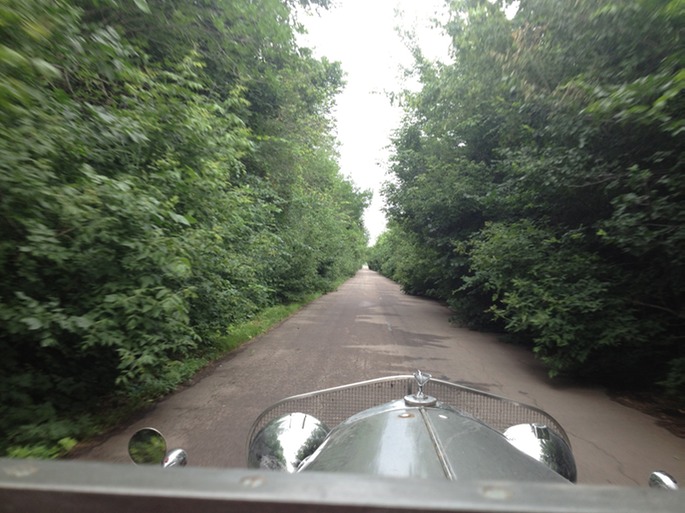 Number 40 came in on a flat bed too. The attrition remains high. They started again this morning but by 11:45 they too were back on a flat bed.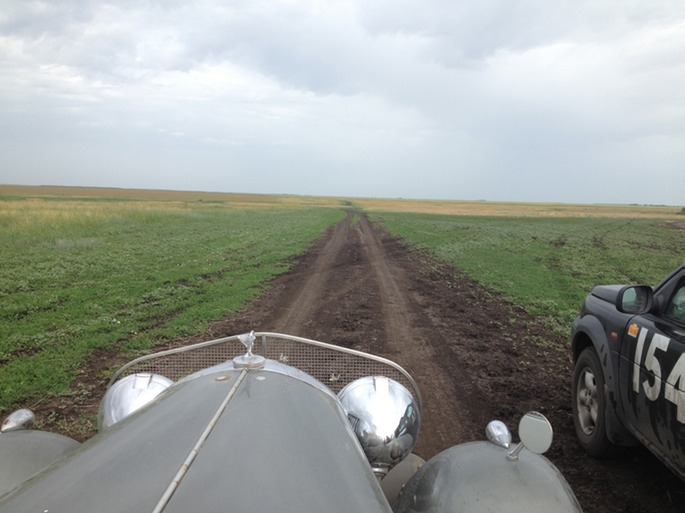 We passed a Jaguar 120 at the side of the road and I think a white Chevy Fangio also on the side of the road. Another day of cars off.
We passed the Passage-control with out incident and headed off to the Time trial but the skies looked ominous. We arrive at a farmers field for the start. It's not to long thank goodness but we are informed that it is as smooth as a babies bottom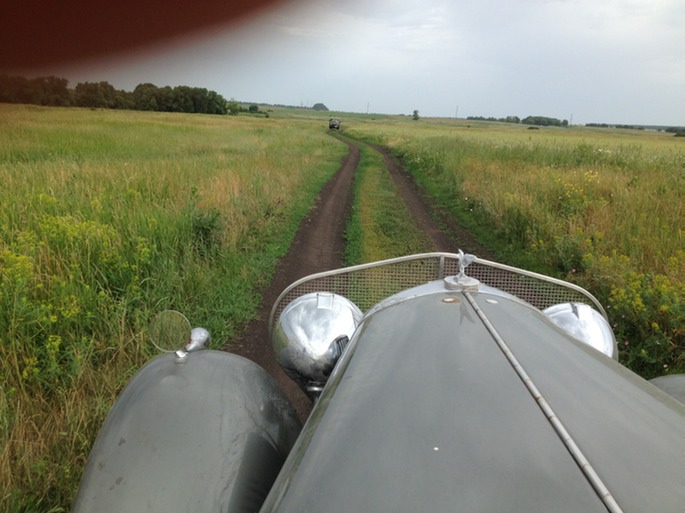 So off we go, albeit cautiously, it's smooth it's on loam and although we squirm around and Tony grips the steering wheel it is quite a fun ride by half way we stop for our passage control signature and fly off. We are driving a little more sedately but the car seems to enjoy the soft surface and we see the final Tony guns it, and one of the crew is standing down the road but on it. I wave my hands for him to get out of the track and he jumps off as we skid across the finish line. Wish we did more of those.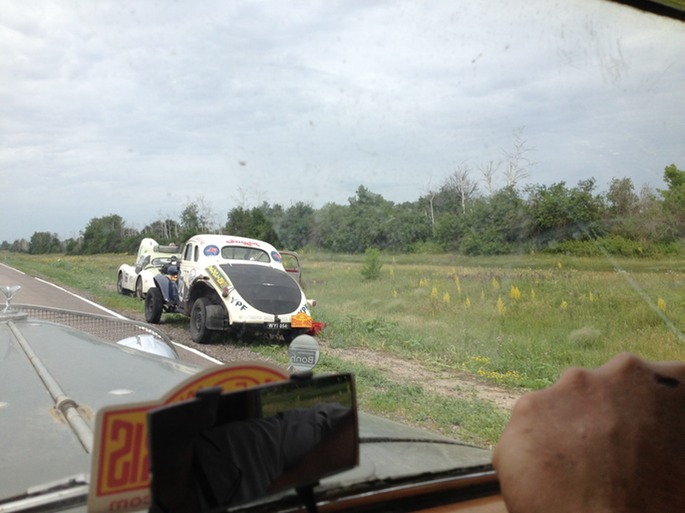 400km today more to go.
Off we go onto the next passage-Control a 150km away. We have potholes that eat tires. We have bumps where we hit the roof of the car when the top is up. The Time Trial was a pleasure and we even met the farmer who allowed us to tear through his field.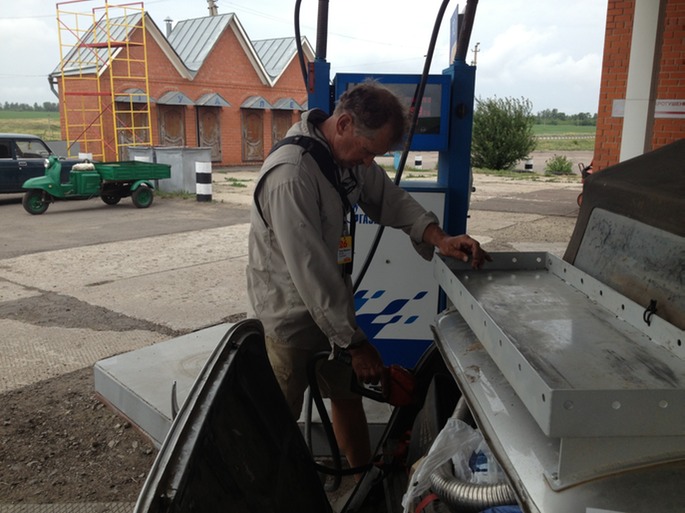 Thank goodness the day is overcast, it just drops the temperature that little bit. Car 99 tells me yesterday the temperature hit 42. It really hurt a lot of cars.
We started the morning with backfires and hesitancy but Tony feels it was just carbon build up due to the heat. Initially it gave Tony a scare as we haven't had that yet and there will be so much to do in Kiev on our next rest day.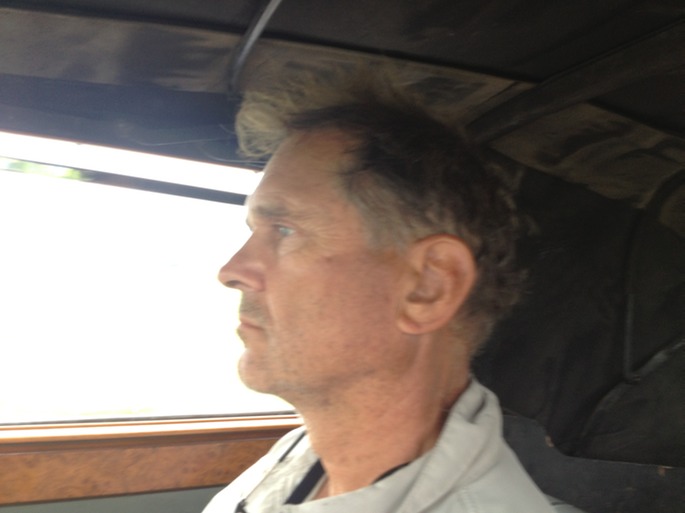 We started  today in 5th overall and 3 rd in class. We have kept our gold.
We will see what tonight brings. I am typing this in the car as we have for the first time in days apiece of smooth road with minimal bumps and we have just passed the halfway mark for today. 313km.
Yippee!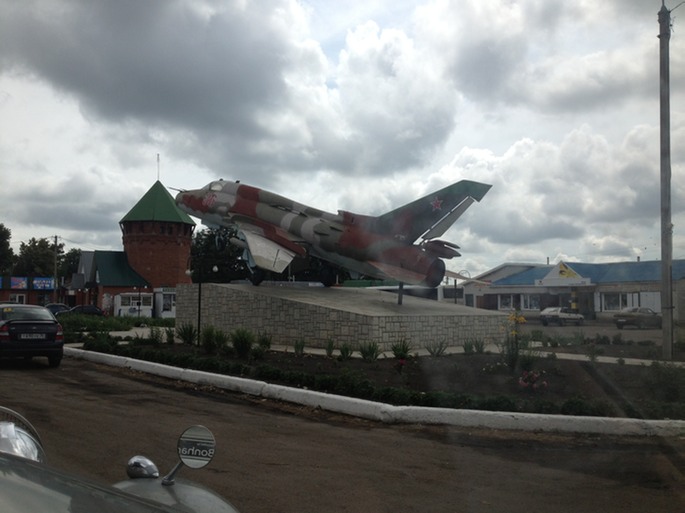 Just to add, we drove in tonight to cheers and Dirk bought us a beer to celebrate our lack of flat tires. Everyone is hesitant to ask but they know we were here as one of the first group so we must not have had a flat.
Off to dinner and some unwinding. It was a long day and we will be in bed by 9:30 I hope. Tony checked tires and fluids. Oil is good, water is good, we don't need any, the road definitely improved today especially since we are so close to Moscow.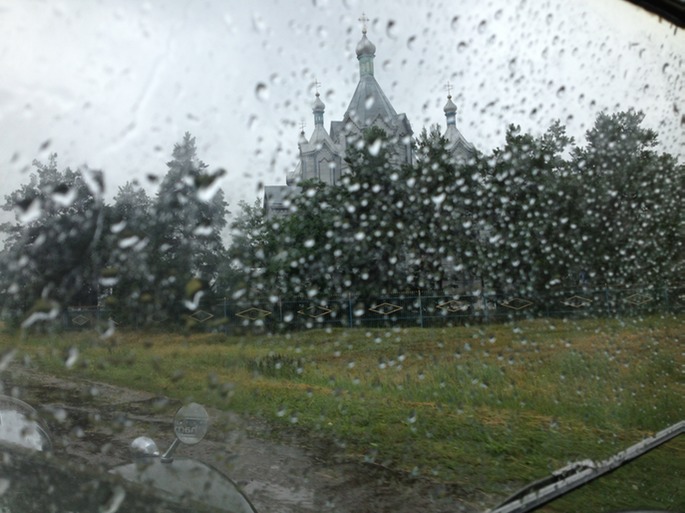 Had dinner tonight with Gary and John Anderson from Canada and then the Belgians arrived along with Nadia and Nicky. Dirk is having electrical problems and has no lights or windshield wipers, something we really needed today and Nadia was having some brake issues but all in all everyone was in good spirits and ready for us to enter The Ukraine tomorrow.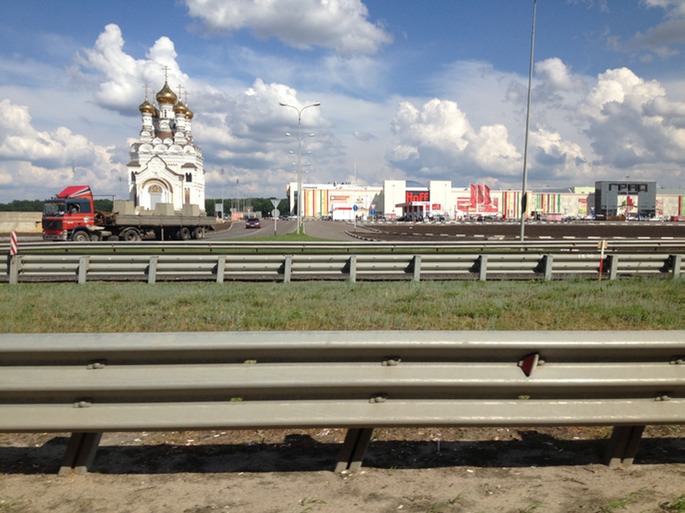 At 10:00pm there was still no sign of Jenny again. They continue to have difficulty with the car and navigation according to the organizers. Hope they are OK Loren looked exhausted the last time I saw him. He has been at various shops around the clock trying to get the car running.
Tomorrow is a new Day
Lee Ann
Lee-Ann 🏁
Be eccentric now. Don't wait for old age to wear purple.