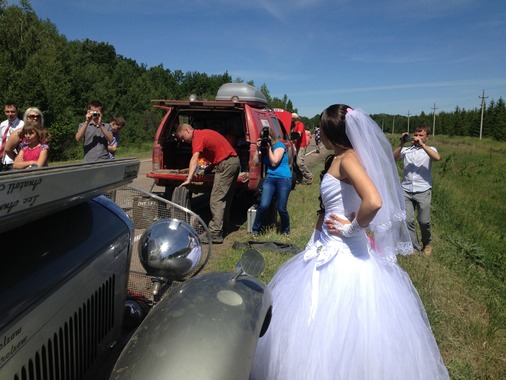 Day 19 trying to get to Samara
Probably our worst day yet for flats. We had three blow outs by 11:00am. Two later in the day. The day started well. We were early to the start and knew we had a long day ahead so wanted to be on time. Meeting the time deadlines can be stressful. So we were up at 5:30am and out the door by 6:00. I had slept soundly as the night before we were exhausted and had fallen behind in sleep.
Set out Ok but made a navigator error at km 25. We caught it quickly and turned just in time to catch a train crossing which held us up for 10 minutes. We are 9th overall so being at the front we all know each other quite well now. We all fall in line.
Off we headed towards our first dirt road track. Russia has been a bureaucratic nightmare and time trials get cancelled at their whim. Yesterday we were to cross the line in a time trial from Asia to Europe. It would have been fun but it got cancelled in the end.
On our way to the passage control we entered the gravel as per usual and about 15 minutes into it we here the familiar flap flap of a flat tire. Out we get and thankfully we find a long dry wall nail in it.  It was sad at first as this was one of our new reinforced Michelin tires. We switch back to one of the Wayfarer inner tubes with the patches on patches. Put it on and 20 minutes later its flat. GRRRR!  However just as we Hit the Passage Control. We both desperately want a cup of tea but find ourselves with a second leak in the patched wayfarer. Sit in the gas station, jack is now broken, Chinese made and over used. This is where I get interviewed and filmed  about our bad the sad plight of our tires as they call it. Everyone has some advice for us. We try high pressure low pressure soap talc sand paper dressing the tires. You name it we do it. I think Enduro rally has a photos of Tony on their website fixing it. Thankfully all this occurred at the Passage Control while many do thier own repairs. We are one of the last to leave but we tear out of their in time to make the next Control section.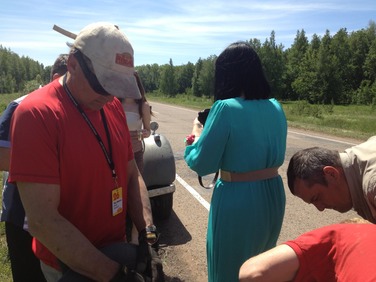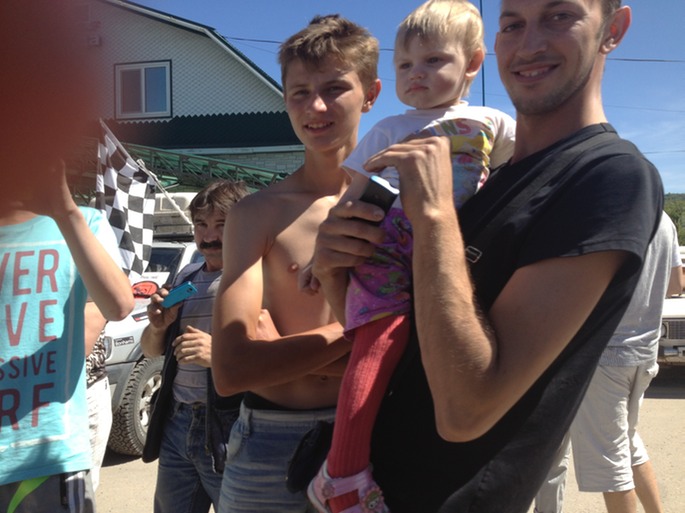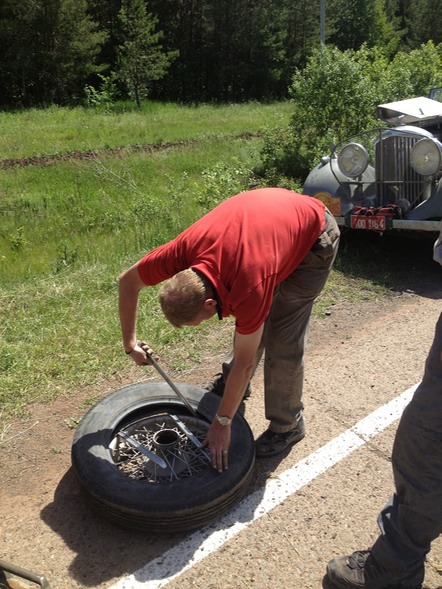 Anyway, Tony patches the Michelin and we head off. It took about 25 minutes. we kept the 3 inch nail this one is the new thicker tube and its not torn its a nail. We are ahead of time so thankfully it's not so bad. 34km later the Michelins goes flat. By now Tonys hands are raw. It is a lot of work to install a tire on a rim without a machine and then put a second one on that rim. It is not fun. Thankfully the sweeper crew sees us and comes over to help.
They pull out a patch kit and lickety split they have the tire off, check the patch which has torn off. they have the equipment to clean and better patching stuff so we hope it is a better job. Time is passing. Our next Control is  75km away on terrible roads and we have 30 minutes to make it. So we flew
While all this tire changing stuff  is happening about 8 cars show up with a bridal party in them. They all jump out about 30 of them and head towards our car. What a site the bride in her gown snapping photos in front of our car missing a wheel and up on a jack. They are chatting away in Russian and try to make us understand. Their photographer keeps shooting photos of our disabled filthy car. It was entertaining, they wait while we fix it snapping photos all the time, must be a new fad. This isn't the first time. Yesterday at our hotel in Yekaterinaburg  a bride wanted to sit in our car all dressed in the wedding gown. Our car still has so much sand and dirt in it. I know her beautiful white dress was ruined.  
Tony with the Endurorally crew continue working and they search out the hole and re glue it. We put it on and drive like mad to make the passage control. Covering 104 km in record breaking time. We make it and clock in. We get the card signed and now head off . 5 more km, and another puncture. This is ridiculous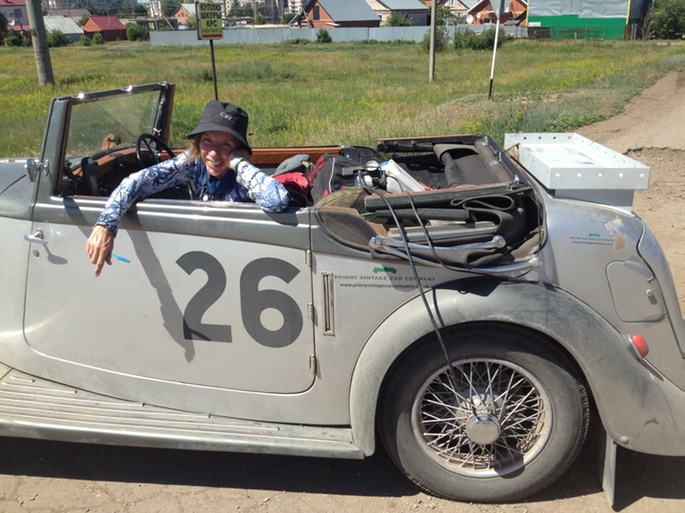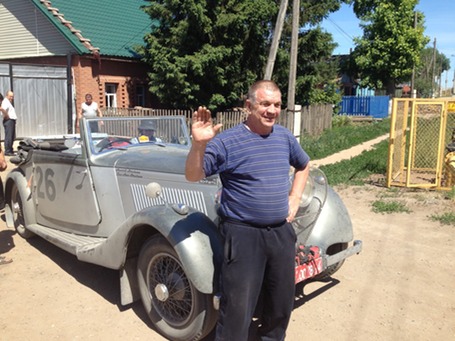 Lee-Ann 🏁
We found a tire shop on route and this fellow provided us with  some new glue for patches and a tree branch which when hit turns into a brush. If i hadnt seen it I wouldnt believe it. All Ivan would take for it was to have his picture taken. He said we would bring him good luck.

We think he brings us good luck. haha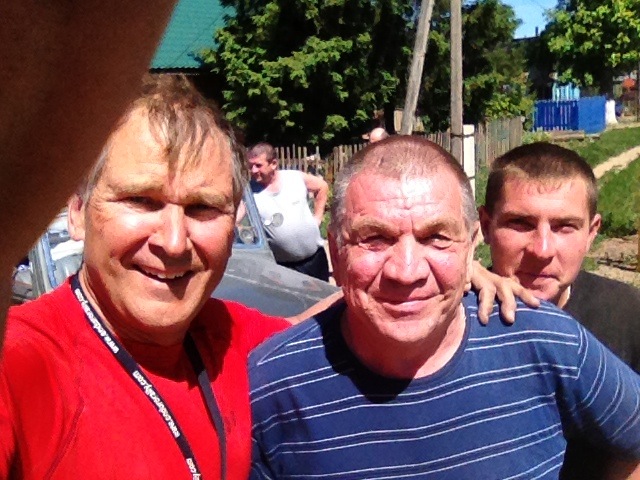 Be here now, be someplace else later.