Day 15
One day of rest HA! If that was rest bring on work. Tony arrived at the hotel at 7:00am. He showered lay down for 15 minutes and we had to leave. We need to drive about 700km today to Omsk. I am told the weather is to be bad and that the trials are cancelled.  to date we hold 5th in class, 10th overall and we have Gold status. We haven't missed or been towed in. So we rise go for breakfast and pack up. We re out of there by 9:30am. I make an error with the gPS heading and we spend 20 minutes trying to retrace our steps. Not fun especially since we are late leaving. Doesn't really matter other than we must be in by 20:00h . Check in closes.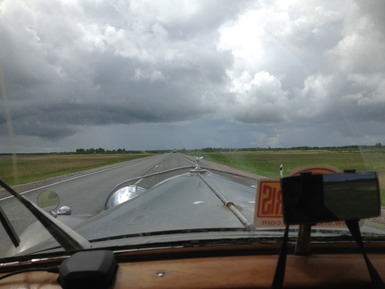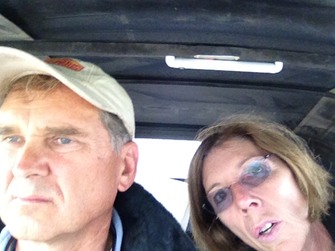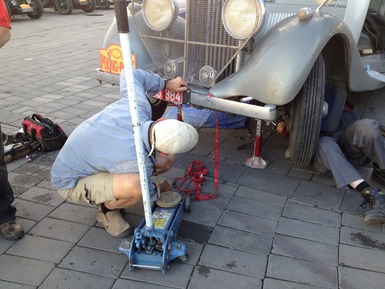 I drive, the roads seem poor and I wonder why I am tram lining all over the road. I slow to get better control of the car. I can't really take the car above 45 mph it jumps all over the road. I struggle and finally Tony half asleep beside me notices and says go at a comfortable rate.i try but my arms aren't strong enough.. 1 and half hours I fight with the car. No front brakes, thunderstorms, and a car that wanders all over the road. Both of us are worried. We cant race like this, let alone drive like this, we will nurse car on but it's not good. The roads are poor, we tram line and something is definitely wrong in the front end. The noises are scary. Finally we get another flat. Sitting at the side of the road at close to the end of the pack, maybe 4 behind us. Jenny hadn't left she was busy taking photos, the other old Bentley with the Australian couple hadn't left and a few others who had pulled all nighters.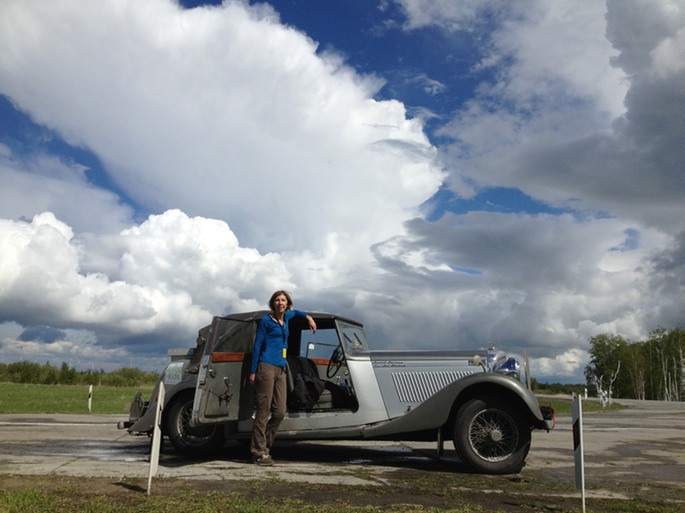 Three of the sweeper crews stop for us. Within 5 minutes we are changed and they offer to redo the other tire and place the tube inside when we get to Omsk.  Tony mentions our brakes. Sitting at the side of the road in the stormy weather. They ask us to drive slow and careful and they will follow. We do and reach our hotel at 19:59h. I hop out run to check-in as closing is 20:00h. Tony totally exhausted searches out crew and 5 guys put their heads under the car to make a prognosis. Off comes the steel armored skid plate. Out come the floor boards. No one has eaten a thing since morning. The tried to take photos. 
First the new Russian springs are on backwards and so the Brake cables the front ones were just dangling. Ahhh so that's why we had not brakes. The springs were causing all manner of problems with the steering. They wondered how we had driven.
By midnight the problem was rectified and I sent Tony to bed while the Russian crew found an electrician to look over our electrical problems. No lights no signals and a jury rigged horn. Tony gave quick instructions in Russian and I stayed while he crossed eyed hit the sac.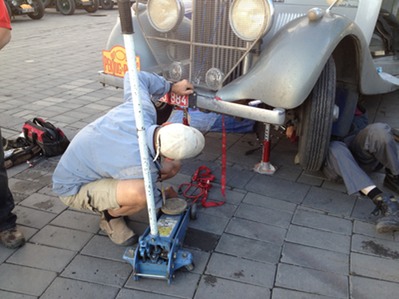 About 1:30am. not a. Soul but me and the security guard and the two electricians. I did sign language while the electricians worked and I started writing in this blog. Then, one said Chief. I pantomimed sleeping. He indicated finished and I said how much with the usual hand gestures. He shrugs. Then goes on his phone. 2 minutes later, two big SUVs arrive with tinted windows. Filled with well dressed men. One gets out talks on his phone and gestures to the electrician to decide. I am amazed. The electrician says 100 rubles, about three dollars. I search in my bag. One of the guys in the suit jumps out of the car, says NYET NYET NYET. I shrug, thinking that maybe they want more, but no. They must do it for free. Very strange. They all jump into their cars disappear as quickly as they came. I think I just had an encounter with the Russian mafia. I think things went well, keeping my fingers crossed. I trundle off to our room and fall into bed. Greasy muddy and exhausted.  Our race starts at 7:00am. I hope Tony has set an alarm as I drift off to sleep. I wake up its light out I panic and hit tony asking him the time. He says after 6:30am. I jump out of bed. Turn shower on.
Only to get cold water and brown water ...OH SH.. I brushed my teeth in that last night. No,  hot water. So I throw  clothes on and rush down to get our start card,the security guard gestured to me last night he would watch the car as it had not been properly buttoned up. The tools were still out and floor boards in the front were off. How to put it back together for a 7:10 start. It is now 6:50am. 
The sun is brilliant thank goodness after yesterday's continuos thunderstorms. I walk not quite run to start gate and get the new instructions for the day. Two roads are washed out so the time trials are cancelled till the afternoon. We must drive 617km to TYUMEN. Interesting....
Tony hasn't road tested all the changes but we are happy to have signals and lights that now function. Hope the work on the front end which is the most important makes the car drive able.
Lee-Ann 🏁
Things are Looking up!