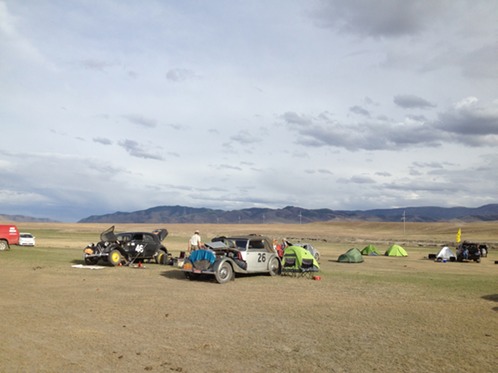 Day 7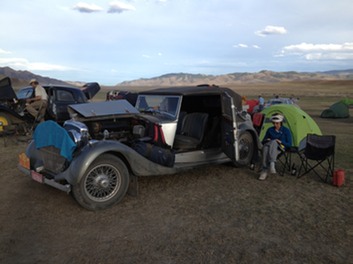 Heading out of camp we are now in 10 th spot overall and 5th in our class. I think OK car you are doing well. Keep calm and carry on, will be our mantra...  No speed just nice and slow and steady. Can we do that? Realistically we are on day 7 and we have 27 days to go....
So need to keep perspective.
 We are 13th to start, as we kept our previous days start time.
Breaking camp takes about an hour then a hearty breakfast their yogurt is delicious. Fermented YAKS milk, not sure. I haven't tried the Yaks milk or the fermented yaks milk yet but, looking forward to trying it. Need to be careful as they have warned dysentery is about.
The day was crazy, we left at 8:13am 20 km and we are onto to the trail. The ruts the rivers the rocks intensify. We have three time trials . The first one is great, we move quickly or as quickly as possible. In a 1936 car of its size. The roads or rocky trails are in one word horrible we slide and we actually spun once. Our tool kit slides or gas or Gerry tanks slide our water too . The bumps can be three  to four feet. It's crazy. We were off road from 8:45 to 17:00 it is taxing on the car but I think more grueling on our bodies. Tonys arms are exhausted we are mentally fatigued and we don't have car problems, yet. but at some time we will expect them. a car just cant take tis much battering. We all have turned the colour of sand.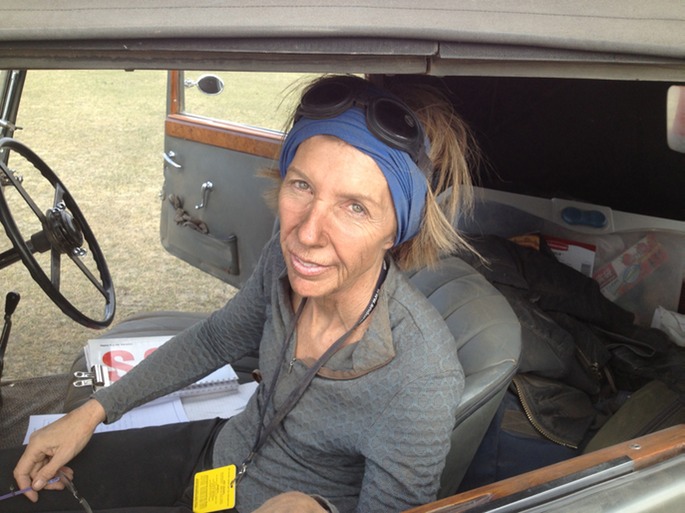 Our car very quickly fills with sand. The storms are light but the soft sand just enters every orifice.  We have been told this is the worst day we will encounter, so far. But the Bentley so far is performing well. I think Endurorally is building us up for the tough stuff.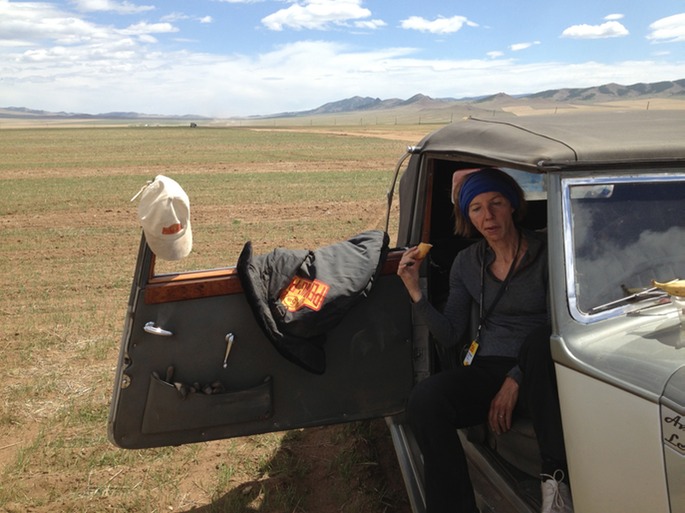 About 45 minutes in to the trail we smell fuel. It's very strong but we have bounced so hard continuously that we giggle. The Bounce is like undulating  rhythm almost a dance.   The smell however is strong. Tony notices there is fuel in the engine compartment we wonder if it is just the continuos bumps that have dislodged something. The flat bowl for the rear carburetor is flooding and overflowing. However thankfully the roads ease and the smell dissipates somewhat. We will continue.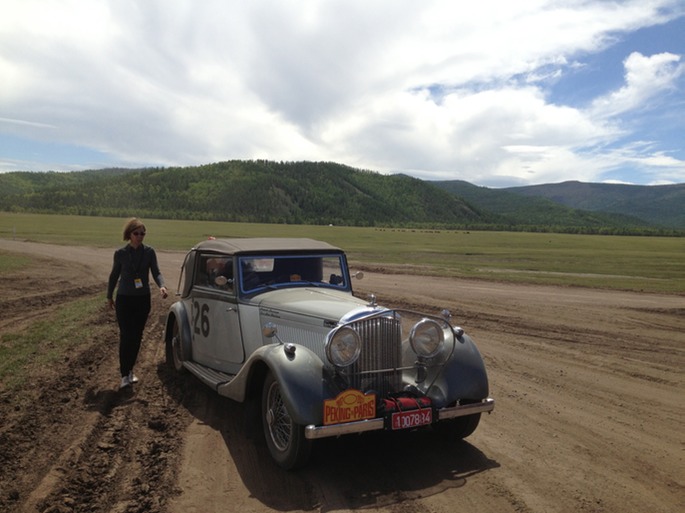 The first time trial is at about 65. Km long. We head off and race through it fine.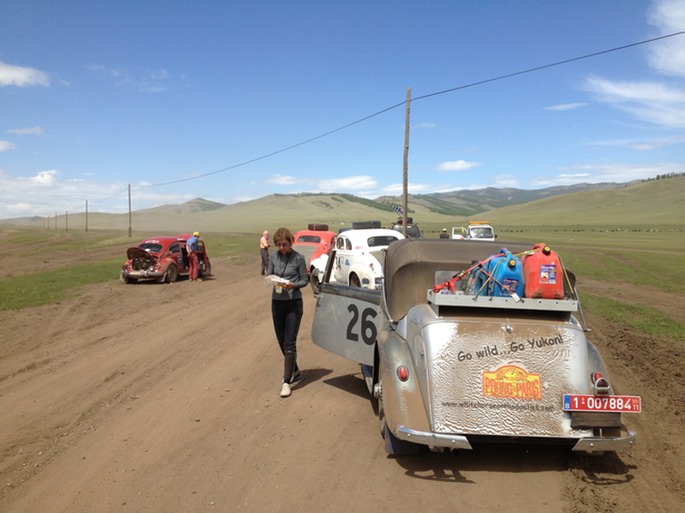 The car runs fine. We continue on and arrive 3 hours later covering less than 100 km. you just cant travel that fast, surprisingly we just made it to the start and we had three hours to get there, the terrain is terrible. We drive perhaps 15 to 35 km maximum/per hour. The conditions are so bad. At the start of TS  7.1 everyone is miffed. 7 day-1 race
We take a break, it's just so hard on the body, ours and the car. Tony says his arms are exhausted, and i am constantly steadying myself. Jumping up and down being jostled from side to side. Trying to read the GARMIN and follow the notes, is really hard under these conditions. I would hate to get car sick. The screen on the GARMIN is small. I want to wear my sunglasses with leather protectors to keep the sand out but then the screen is so small I keep switching between reading glasses and sunglasses to stop the sand getting into my eyes. There is so much sand. It is everywhere and those in open cars end up almost brown at the end of day.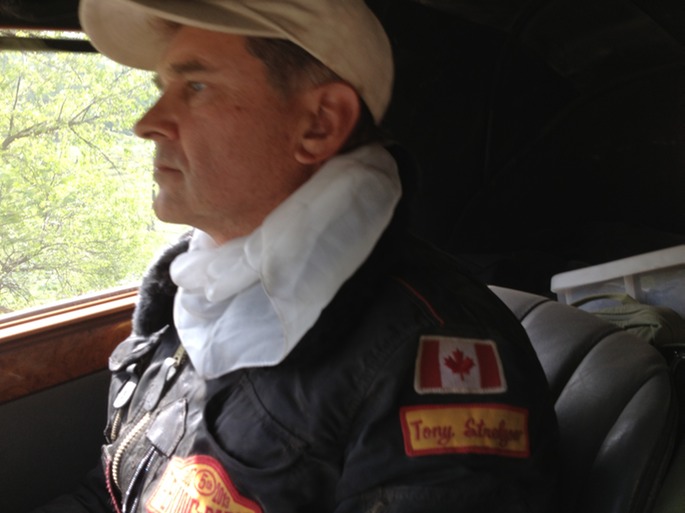 The attrition continues to be high, many cars along the side of the road.
By the third race we have slowed to a crawl. We want to make it and we just can't trash the poor car anymore. Tony Carl and Andy have done a great job in getting us this far. We keep thanking Andy everytime we bottom out, which is more frequent than we like.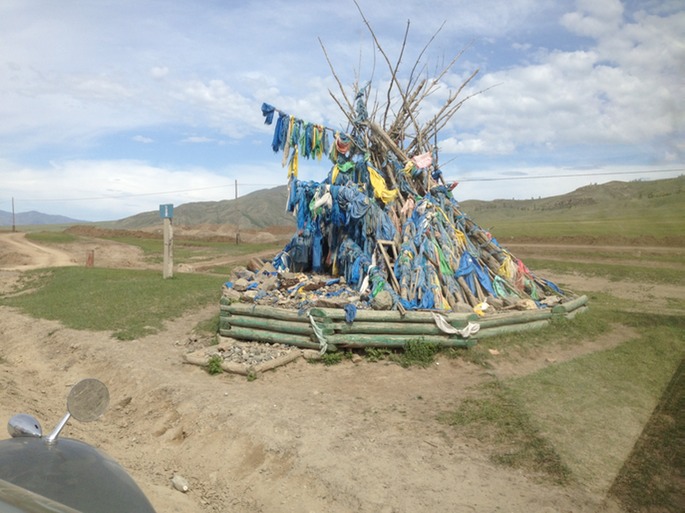 Jenny Mah and Loren were out all night driving, they arrive at Bulgan Camp site at 4:30am. They have a fuel problem and don't know if they can continue. They were hoping the Endurorally people would have helped more. Their resources and the number of problems Jenny is having  is creating a problem for the organizers. Their resources are only so good as they have the rest of the group to look after. They have needed towed in every night and the night before it was 4:30am. On the other hand Jenny has had so much difficulty with the car. The conditions seem just too much for it. Their satellite phone isn't  working for them either so they couldn't contact anyone? Phillip the organizer from Endurorally has suggested they have it towed to Novosibirsk and have it looked at to make it ready for the rest of the trip. Jenny rightly so is concerned about the expense.  Everyone has so much money in this.
Yesterday two cars rolled. One was the Japanese team in a Datsun 240. They were OK but the car wasn't that was for sure. However they worked all night and were I believe ready to go. The Volkswagen I think may be out after its roll. He is very serious. If he can't win he doesn't want to race.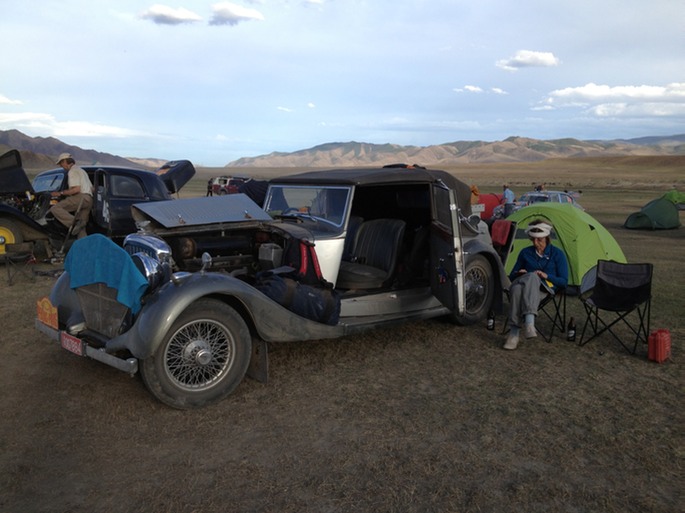 Lee-Ann 🏁
Carry on...