Day 33
Troyes to Paris. the End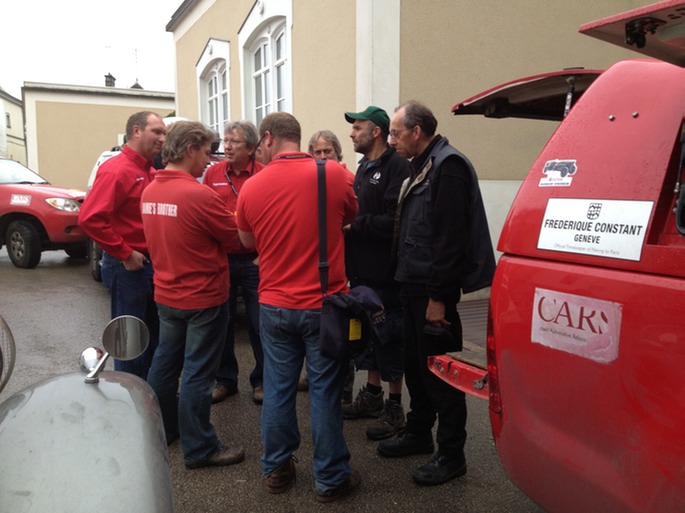 Pouring rain greeted us at the start to the day. Not wonderful for our last 250km to drive into Paris. We left the Mercure hotel and missed the first turn. I missed the Monat numbers and the organizers had not given any GPS headings today, those sneaky guys. So we were blind. Inside the car it got heated and not from the heater, even though it was quite cold. So Tony said tell me where to go. I don't know, I said. So we start off but soon realize the twists and turns don't  match, so much to loose on this last day and  so we decide we better go back and restart. We lost almost 30 minutes.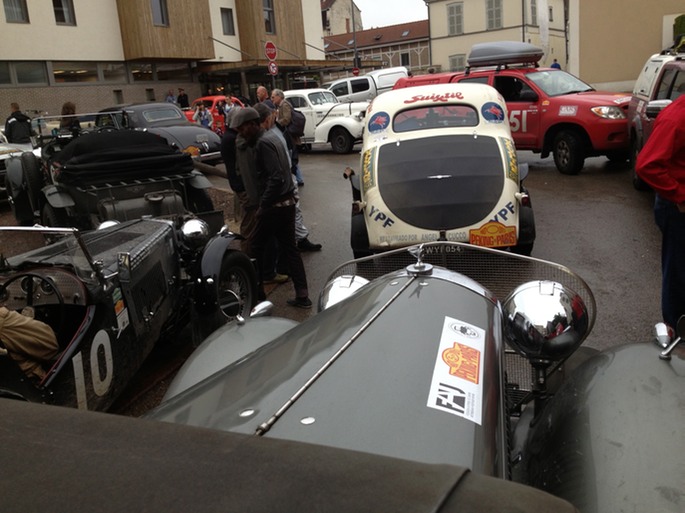 We have only one TC and now think we might get a penalty.  We drive like mad but France has added those dreaded stop signs now entering every tiny village but we make it, with seconds to spare. There are four Passage Controls to the final finish on Avenue Foch.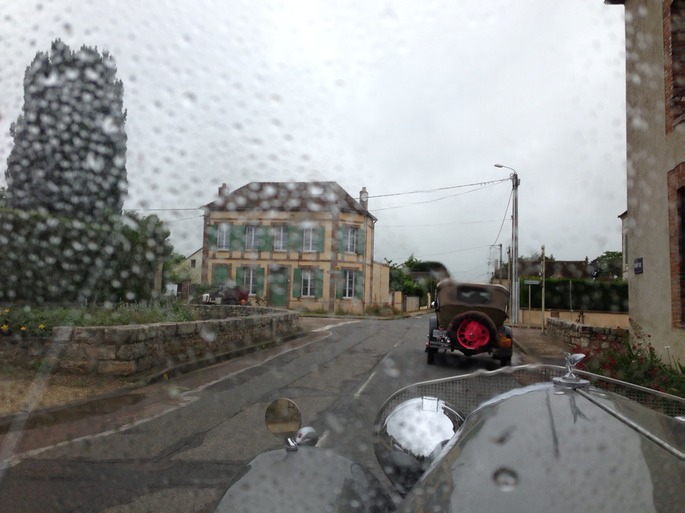 Thats not all About two hours into our drive the generator shows charging but the light isn't on. This time and it worries Tony so he pulls over fiddles with the switch and we try again. Nope it's just discharging. We head into town hoping we don't reach critical discharge. It seems to restart OK. We line up and then we head down rue Victor Hugo to the Arc du Triomphe around  it to the Champs d'Elyse  down it with our group of cars.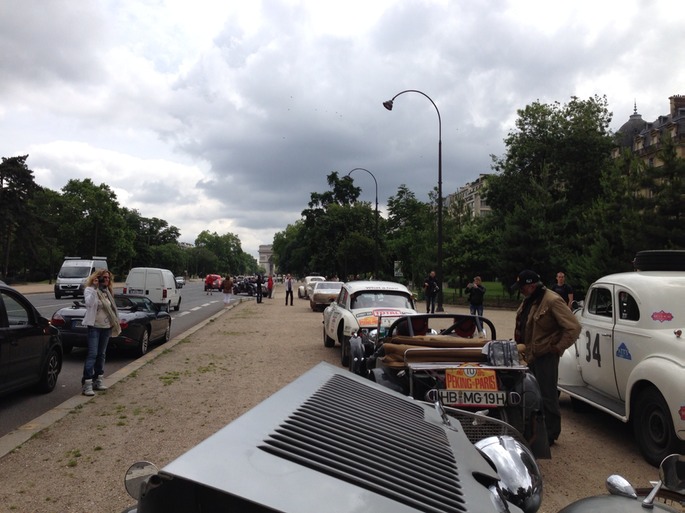 After the Three Classic Cars and three Vintage cars, Around Place Concorde and onto Rue St Honore finally down it with horns blaring and flags flying.
Finally into Place Vendome with a big welcome of flashing cameras blaring horns into the crowds. I saw Des first with a huge bouquet of flowers from Louise and my dad at the arch gave me a big hug. So to my mum gave us both a big kiss. It was great to see the Canada Hat. Louise had come but the delay on our route due to traffic and crowds meant she had to leave minutes before we arrived. I heard from other her hat was spectacular. The cigars were really appreciated by Tony. The flowers were beautiful.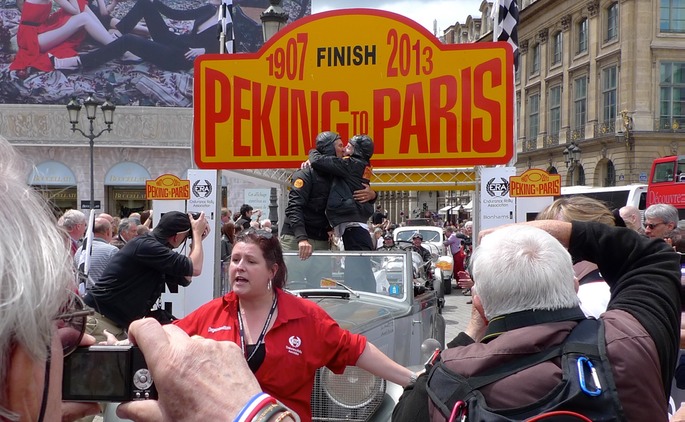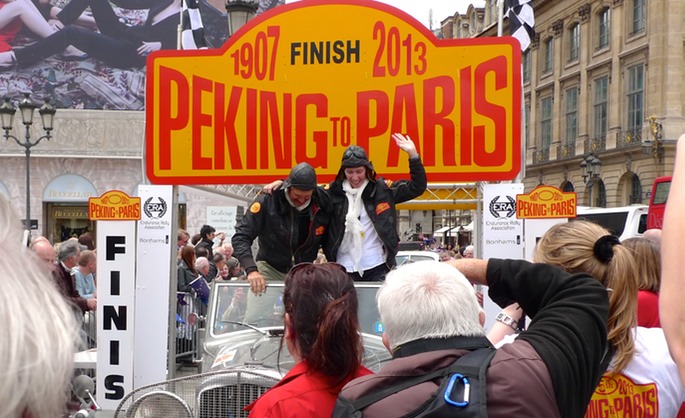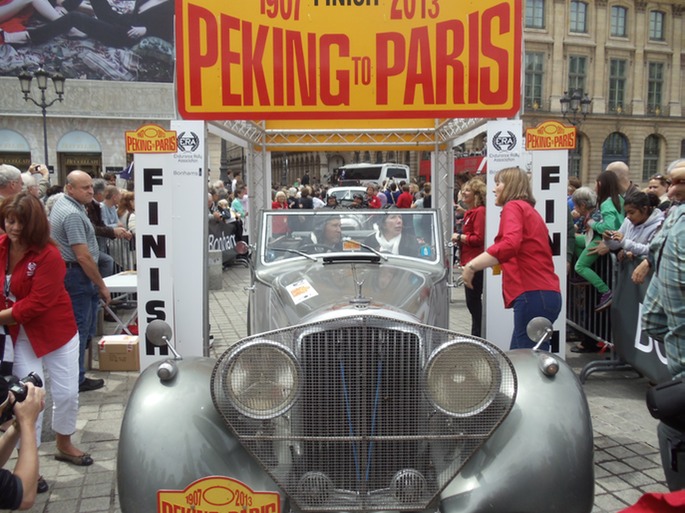 We hovered at the finish while they gave a history and then we were I directed into the paddocks created in Place Vendome to house our cars. We were wearing leather caps ( flying ace ones and white scarves with our special bomber jackets and flags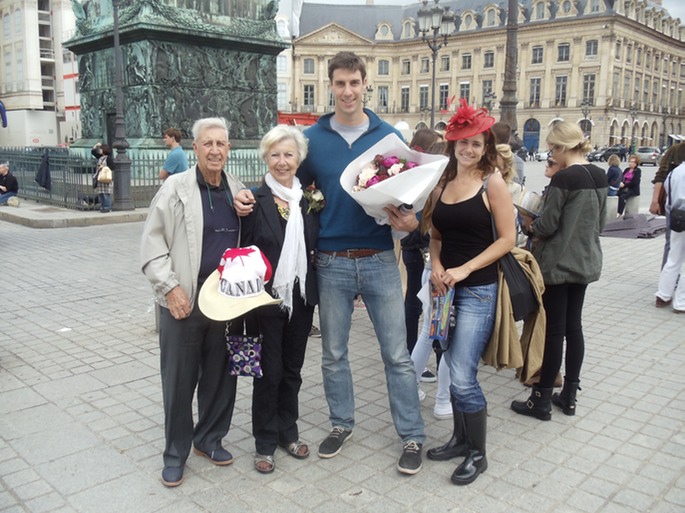 We received a glass plaque for finishing.  AND Un Coup du Champagne
We checked into the Intercontinental grand hotel across from the Opera.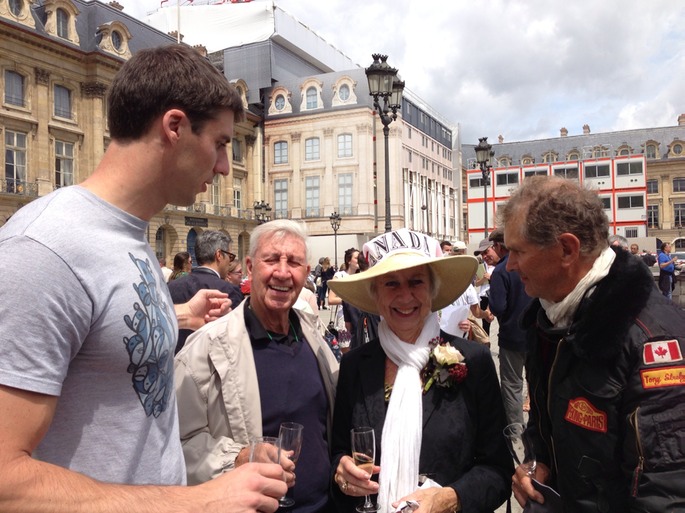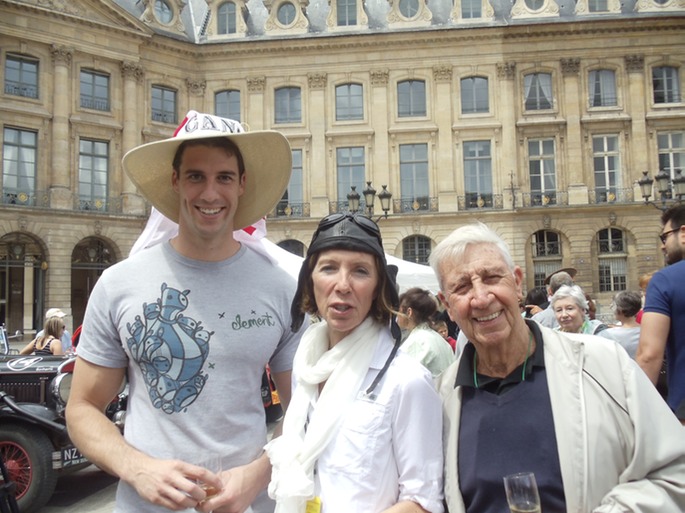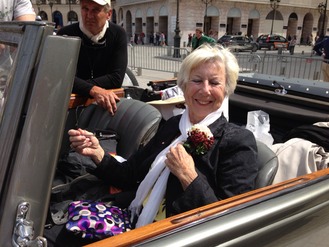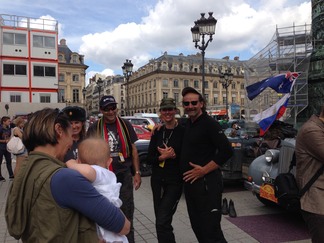 We then spent about an hour walking through the cars and talking to the crowds and the other drivers as they came in.  We did TV interviews and radio and newspaper interviews It took about one hour thirty to get all of the cars Parked at Place Vendome. We took the suitcase and walked about 500 metre to the Intercontinental Hotel.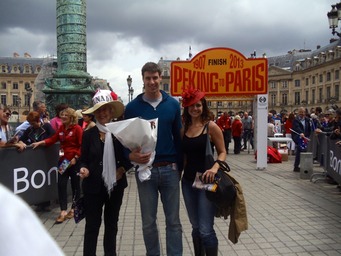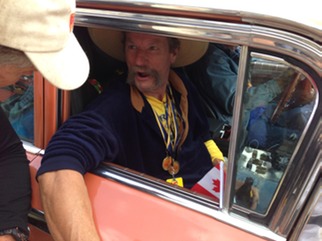 It was bedlam.
I went off to get my hair done for the dinner at Lafayette. My hair was a disaster so dry from the desert, wind and sand then mountains and rain. It would take a long time to get better I am sure.
The hairdresser did it up on top of my head.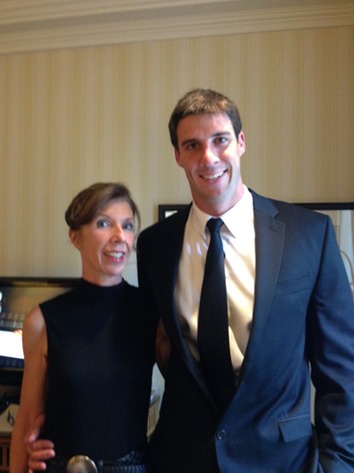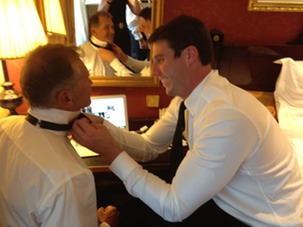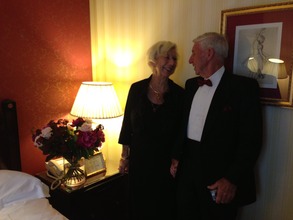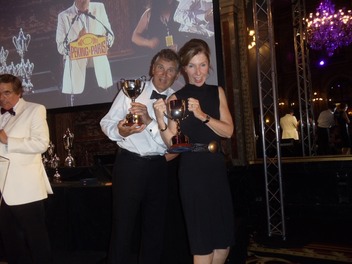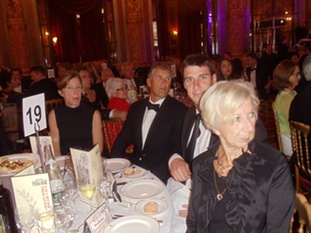 At 8:00pm we arrive at the dinner and are seated. We watch a short video  of the event and its highlights.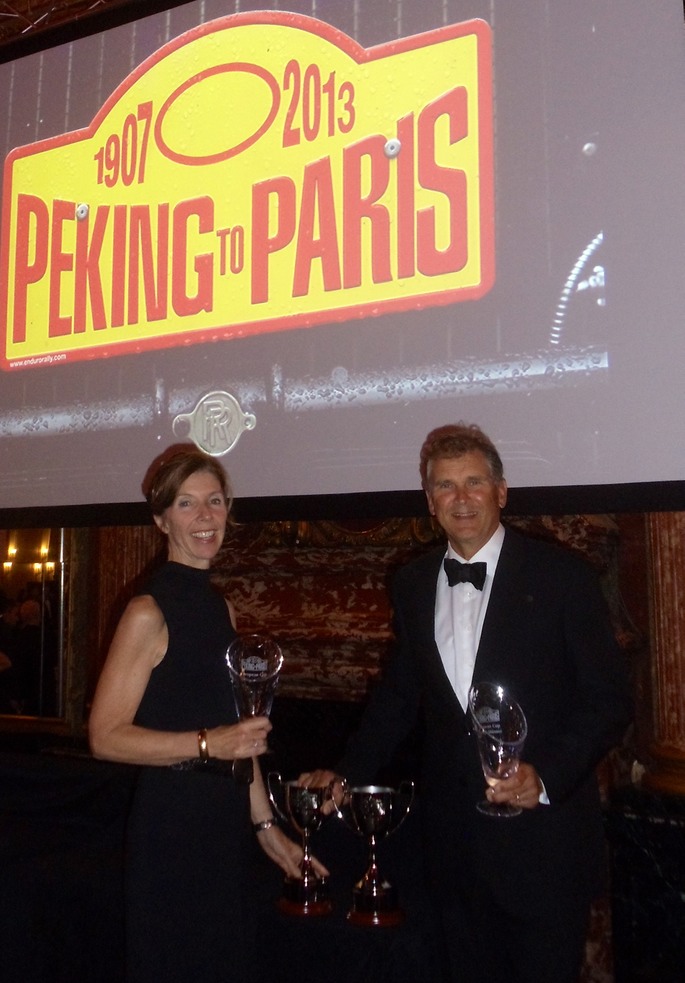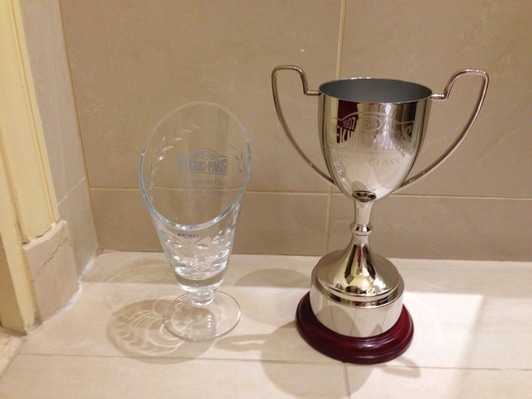 There is a tribute to Emma, very well done. They show photos of her and ask us to celebrate her life with a toast.
The dinner is super, the food is great.  We toast the winners in various different categories and like most awards ceremonies the last awards are the principle ones  
They announce the categories Vintageant  and Vintage. 
They announce the categories, I assume we are third but they don t say our name. Then they announce third place in class. They don't mention our name. I am surprised. I think we must be second but no. Finally First  is called and I am not really listening but they call our name. So we are extremely  surprised but pleased. Not sure what happened there. We get these huge silver cups.
Next comes the European Cup, we know this one is us, our names are called once again and off we head to the  stage. We are excited.
It wraps up around 2 am 
Our evening continues until 3:30am. It is hard to let this moment end.
We fall into bed thrilled by our unexpected rise in place,
Wow what a trip, what a ride. It is over. I can't believe it.
Sorry for delay in posting...
Lee Ann 🚘🏁🏁🏁
Let's dance... It's not over till the fat lady sings.....well she sang.