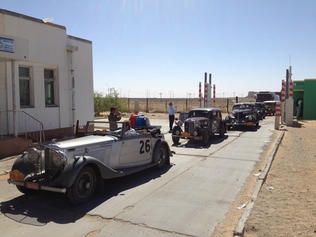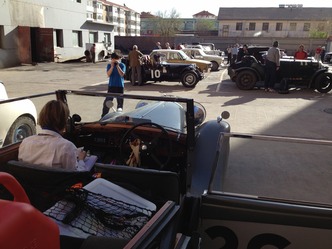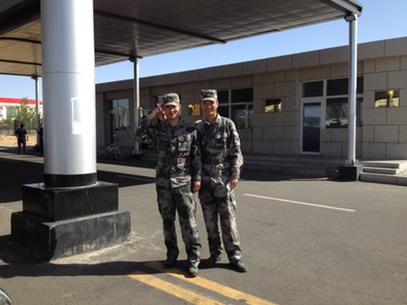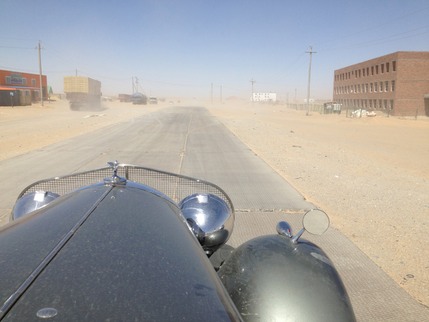 May 30th
Erenhot, China `across the border to Mongolia and 309 km north to a camp in the Gobi desert.
Stayed overnight in a mediocre hotel last night with a comfortable bed, thinking of tomorrow when we start to rough it sure hope I am up to it. Oh well commited now.~
Up bright and early the sun is absolutely brilliant so we decide to take the roof off, hindsight not a great idea.
First, off to the border and the bureacracy begins 1:45 minutes sitting in the blistering sun with strong winds was not really pleasant but eventually we all got through.Day three has begun and all our times for times trials etc have been pushed back. All due to our line ups at the border. Instead of 9:30 we begin at 11:30 meaning  we will reach the camp by midnight. Yikes, have they seen these roads.
We cross the final tarmaced road, meet up with the control clerk and get our new start times for the whole day for each section. Drive out on the road two kilometers, only to her a loud hissing from the rear end. Oh no, another flat tire. Opposite rear this time. Tony says we are too heavy, just too much stuff and distributed over the rear wheels.
The crowds arrive. The Mongolians are all over the car. I try to set up pump but everyone wants to help and have their picture taken. We are a swarmed but in a friendly way. Kids getting into the car, trying to sit on our aluminum hood. Not a good idea.
They have warped the rocker panels already. 
Others racers pass and ask if I all is well. Yes we are getting better at changing tires.
But we need to dissect the problem we are about to head into the most grueling aspect of the race. The Gobi desert. Ok now we are 30 minutes behind our start. Off we head.
Crossing onto the desert we are immediately attacked by a massive sand storm.  We tried a photo  but  it doesn't do it justice . The sand reels into every possible opening  and the car is covered. We are covered. Tonys face has a red hue and I am guessing so does mine.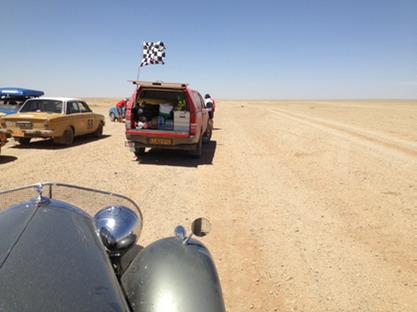 Face feels like it has been sandblasted. I suggest we put the roof on but too late, what difference will it make. The storm passes quickly. The instructions tell us to find a track and watch the GPS heading. Remembering my pilot training when I feel we are going off in the wrong direction.TRUST YOUR INSTRUMENTS.. Luckily we are dead on. We emerge from the storm and right on track. Our mouths are pasty and we try to drink but you mostly eat sand. 
Race leg one gets shortened due to a river bed that is just too difficult to cross. The sand too deep. We start off from the control making good time, the poor car bouncing through ruble and sand. Ten minutes into the race the horn starts beeping with each bounce it beeps. A little annoying. Finally it becomes continuous. Tony asks for the wiring diagrams, which we have close by...I have so much info it's scary.
Ovoo
Mongolians build small cairns on high ground (not much of that in this otherwise featureless terrian). In these spots locals will bring offering (broke bottle of vodka, food and trinkets). Custom is to drive around the Ovoo three times to please the local gods .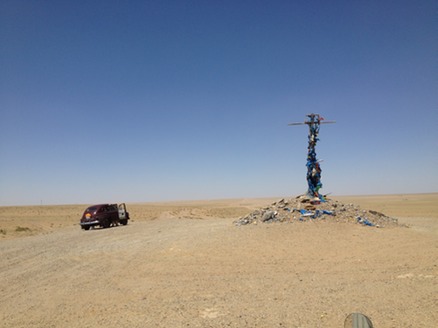 The winds have picked up to close to 30 knots. He  disconnects the horn first, but it is clearly a wire somewhere further down the line. He gets out and searches under the bonnet. Cars are passing on this narrow track and asking if they can help. We can see in the distance someone has taken a wrong turn and gone over a sand bank and were stuck firmly in the sand. Tony disconnects what he thinks is the horn. It works, we quickly jump back in the car but he has disconnected the ignition, so nothing happens when he pushes the start. Out again under the hood and tries to retrace the wires. The wind is whipping madly. Finally finds it. It took close to 30 minutes. The car purrs into life and off we head. I find a slightly less bumpy route and head for it.
 Mongolia is trying to build roads but what's funny is they start and stop all over the place and road is a loose sense. Bits of gravel dumped by a truck.  We cross the finish after one more hour and only these few slight mishaps. Others were not so lucky. Sputtering and maybe some Vapor lock due to excessive heat and probably I think the whirling sand detered us and the flat and the horn but we were still relatively unscathed..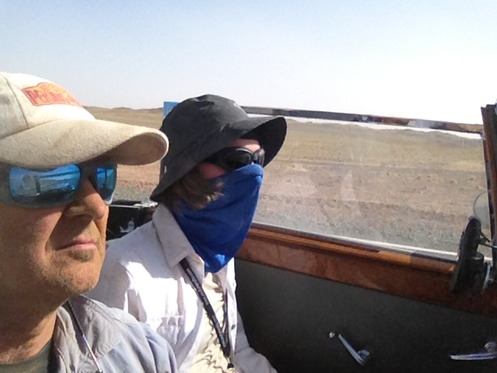 Our fuel pump continues to give us grief and we keep switching from old one to new auxiliary pump.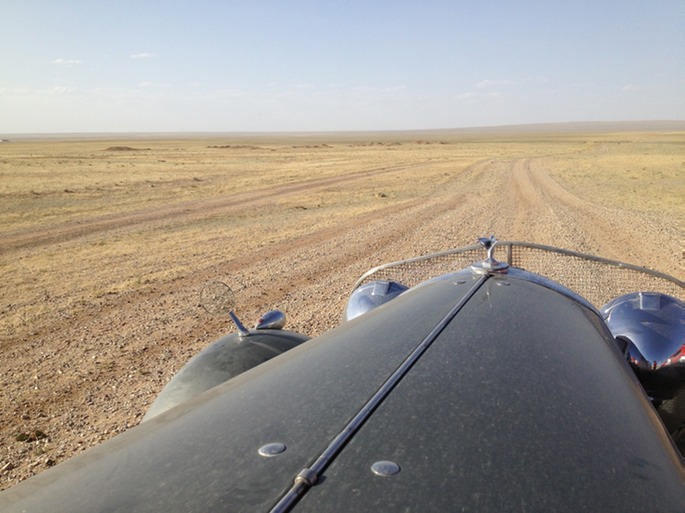 Looking around us and trying to take in the magnificant landscape we notice camels, the two humped type running along beside us. we see deer in herds, we see wild horses. we notice herds men in traditional garb. big hairy black sheep dogs. bigger than one would expect.  The countryside is magnificent. One minute you think of Arizona, then California then northern Canada and the Canadian Shield . Did we race well yes, we made it once again in under the penalty time.  We maintained our gold status, which means we dont get penalties. These can be deadly for you later. Heading on through to the river bed of sand we are warned by the organizers to go cautiously, many have had to be pulled through so we have  thanks to the organization,  trucks ready to pull us through.
We watch as a Porsche gets pulled through.
We decide to get going, no use sitting and agonizing like so many sitting there. We just wind through the crowds and go. Into the riverbed Tony heads for some previous tracks gets half way through and the engine sputters under power that D??? Fuel pump. But low and behold the engine grabs and we pull our selves through and make it under our own power. Great skill by Tony and thank you Bentley.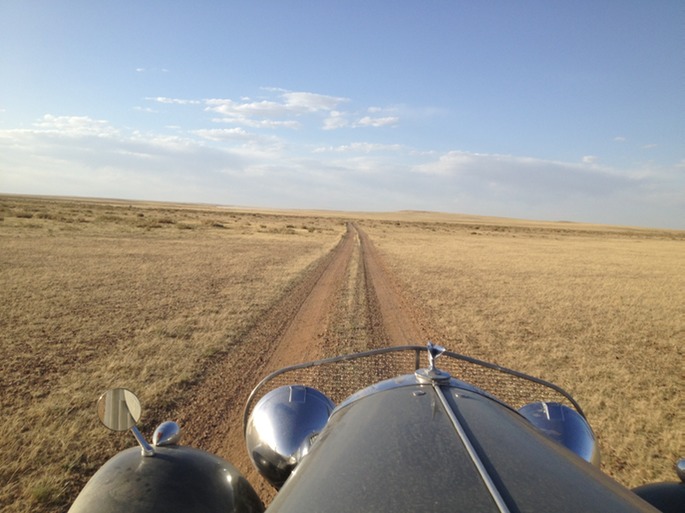 Head off to next check point and start and off we go. All the way to the camp site and again on  time. No penalties today thank goodness. The route is better so we make much better time and arrive well before sunset, quite unexpectedly.
Time to find a camping spot, get the tent out, sleeping bags etc and set up. I must say here I have had a little trepidation around this. I am not usually a camper. I like my comforts but today's camping is quite different from days gone by and looking at that night sky as the sun sets is truly marvelous. My handy Ap Sky Orb informs me we will have a meteor shower tonight. Awe the wonders of technology.
You can see horses and animals off in the distance and little lizards close by. We carefully zipper all into the tent to make sure no little unwanted nasty spiders or scorpions join us.
Tony hauls the tires out of the trunk alone with 50lbs of sand( I am exaggerating here) to check the flat. He wants to check the brakes, they are spongy and finally tighten anything that looks loose. However darkness is upon us. So that will have to wait till our day off in ULan Bataar. Tomorrow will be interesting.
The wind still howls. The camp has portable  showers, well an interesting set up in the middle of no where. A big can burns to heat the water for all 200 in the showers.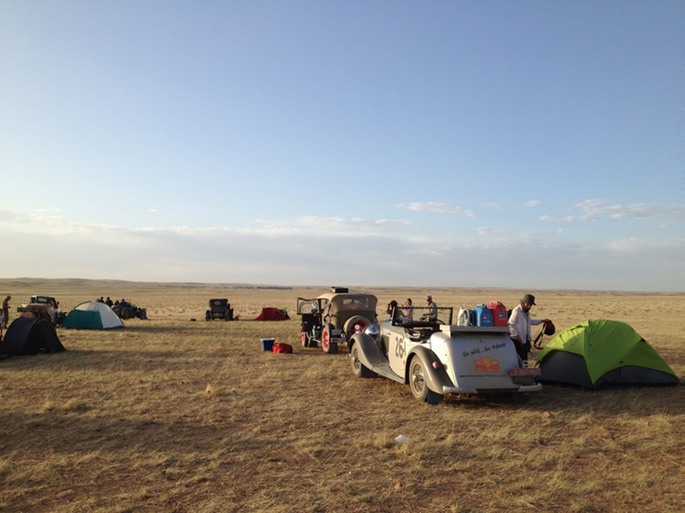 We hide the tent behind the car and decide a beer and a shower are the first order of business. Dinner is made and we head to the camp dinner tent. Looking to meet our friends and share a laugh or a not so great moment. Canadians are faring better today. The first two teams from canada arrive and our Alberta friend with the cowboy hat has set up his cappuccino machine. Jenny has minor car issues and a loose door but Gary and John are having vapor lock or something in their fuel line giving them grief. They still havent arrived through dinner. So their drive will definitely be in the dark.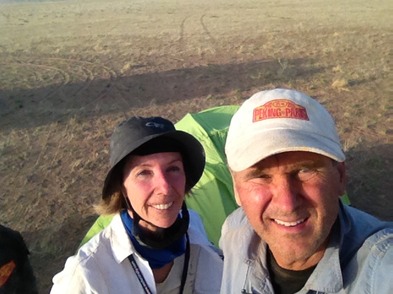 ENDURO rally has told us they will post tidbits about us. We have a camera crew along in one of the support vehicles. Snapping photos.
Lee-Ann 🏁
Be eccentric now. Don't wait for old age to wear purple.