and so we begin, two years of preparation more like a lifetime. Friends wondering for months now have you done it yet. Well, NO!
Tried to go to bed early last night but things just got in the way. I stupidly drank a cup of coffee and so I buzz! Well past midnight finally just drift off and the phone rings. I jump. Its 1:15 am Beijing time and I fumble carelessly for the phone and I miss it. Then thats it. I am awake and so after lying staring at the ceiling for 45 minutes I decide I have, this and this and this to finish so on goes the I-pad. A little anxious that this might be the last time I use it for awhile. Wow there are tons of new emails and I decide to read and answer. Thanks for the well wishes everyone, there are tons. So 3;30am rolls around and I have another go at sleeping but now I am excited and cant wait for the start. THe alarm goes at 4:30 am, I have not slept and I am going to just run on adrenaline, all day I think.
Down to our last full breakfast at the beautiful Shangri-lai.
Out to the car, its raining and the smog and pollution make it yucky but nothing will deter us. We both are apprehensive but excited and ready to go. The car fires up and we pull out into the early morning streets of Beijing. We drive to the Great Wall for our official start and the organizers tell us it is quite a nice send off. The police block the streets off in the city to help us with a quick exit. It is feeling like the Carrera PanAmericana in Mexico. As we leave town there are people lining the streets it is nice, so we smile and wave at those who have come out in the rain to see us off.
We head North out of Beijing about 60km to the wall. We (car 26) are booked for a 8:13am start. ON WE GO, 45 minutes onto the highway and we feel the car begin to skid and slide, oh no.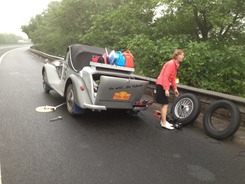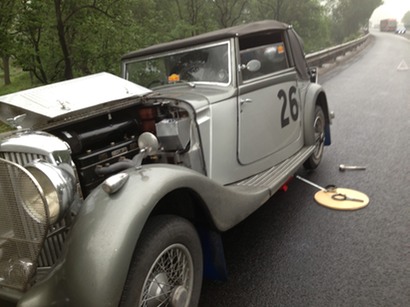 Then the familiar thump thump thump of a flat tire. We cant believe it. We roll to the side and quickly jump out amongst the rain and the transport trucks swishing by at very fast speeds. I find the emergency triangle and walk about 200 metres back from the car, setting it up. Tony searches for the lift to remove the tire. He has the mallet and hits the middle knob to loosen the centre piece, muscles it off and says ouch. I try to give him a hand and feel just how hot the tire is. Wow! I roll it to the side while Tony, struggles to get the new tire out of our oh so stuffed truck. I find the electric pump and plug it into our handily little 12Volt plug, which Tony has wired. I attach it to the tire which Tony has extricated from the trunk and watch while it fills. Once up to just over 40 I release and Tony takes over lying scarily close to the highway to replace the left rear tire. All done and we put all back , well sort of and jump back into the car to continue our already interesting starting arrival. Not quite Formula 1 speed, but not half bad.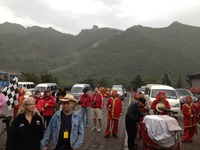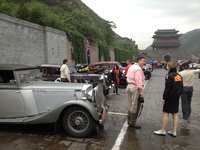 Onward and upward as they say... we arrive, with time to spare and have a fabulous send off by a huge band and dragon dancers. We met up with the Canadian contingent all except Jenny who never got to the start before we left, not sure what happened. Hopefully nothing serious and we will see her at the dinner tonight.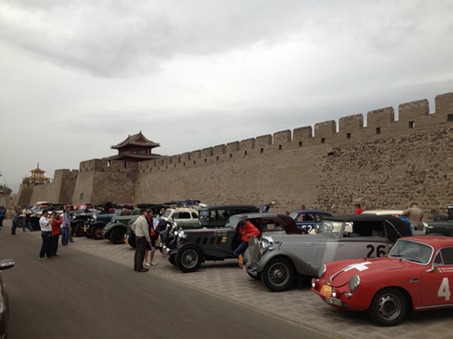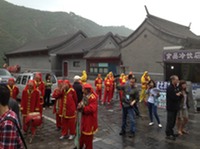 Time trial one is just set up is about 77 km away in a old mail town built by none other than Ghengis Khan centuries ago. its called Jimingyi. We arrive early, unfortunately no toilets, men climb the wall to a field, the women look at each other. What are we to do? This will be a reoccurring theme I think, through this trip. Men have a distinct advantage,
We leave here having moved our load around in the car and dumping our water. We are concerned about our weight and perhaps it may be playing havoc with the tires. They seem hot at the back and our center of gravity is certainly back there. Back in the car, fuel pump ticking like mad. Tony has that look of concern but says it will be fine. He continues to drive. Next stop is 144km along the road, it is mostly uneventful. We cruise through the Control Stop and I look ahead at the guide book. The support staff stop us on our way out of Di Sanbaoxiang to tell us there is a puddle to watch for on page 110-2.  HAH!
When we get there three cars are being pushed through, at least 18 inches of  filthy muddy lake that has formed due to the torrential rains in China. Everyone is frighten and a porsche driver climbs on top of his car to pull out a snorkel  and fit it over the tail pipe. Nobody is moving into the mess. We decide to go for it. I took a little video hope it shows the problem. It is under a trestle so a wave action starts. Tony drives through like a trooper and off we go. at 3:00pm and after about 400km we come across a sign which directs us to a road or sort of. This road is the worst road I have ever seen. The potholes are beyond belief. Some seem to swallow the whole road. We cant believe it. this goes on for 30km. Our poor Bentley, there is the urge to push through it but you have to remember this is day one and the worst is yet to come but honestly I wonder could the road really be any worse than this. It made me think of a northern Canadian lumber road after the snow melts and huge trucks have created Rut after rut. I see why they say this race is the most difficult traverse we will ever do.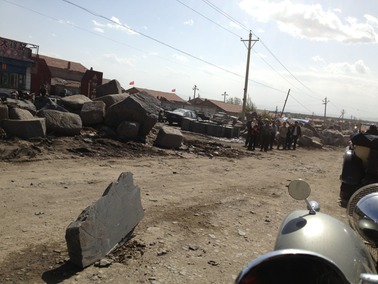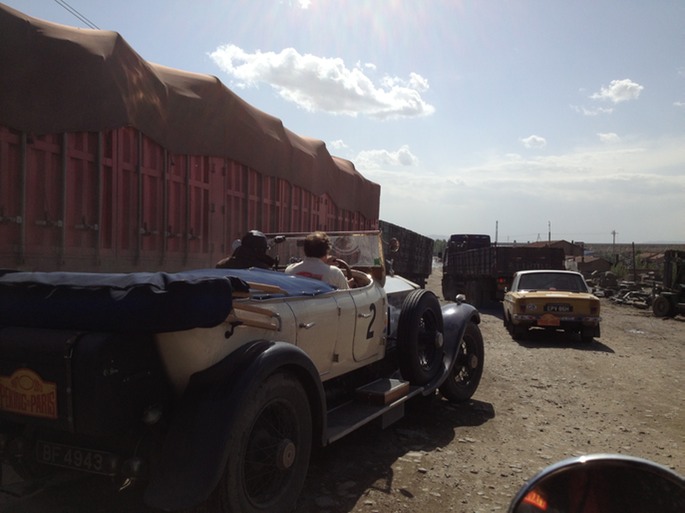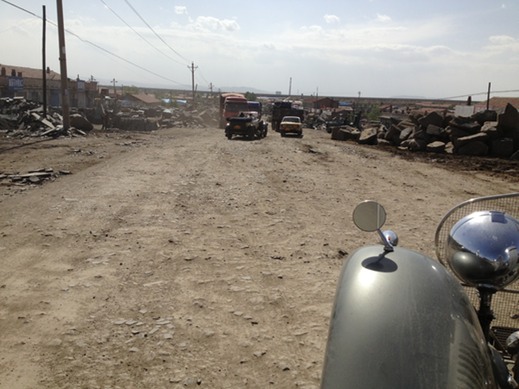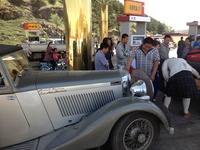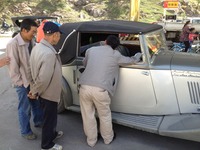 We finish the day, Tony's arms are exhausted from all the maneuvering through the bumpy terrain and he still has work to do on the car. One head light is out and the signals still wont work so I am eyes and the trafficater or signal-woman for us when we want to change into the left lane. Interesting job. Wonder if there is a future in it.
 Sadly we saw a dog hit by the car directly in front of us, a little thing, we didnt stop but probably should have and now I feel a little guilty. Chinese dogs are the strangest little things. You are not permitted to have a dog bigger than 38cm. I swear they cut their legs off to keep them small. Anyway I can only hope it is OK.
Its almost 7:00pm and I hope Jenny and Loren have arrived. I didn't see Gary and John Andersen later in the day either. I am sure they will have stories to regale.
I need food and sleep, we have to use the hotel hard wire cable so alas my I-pad isn't going to work here. I am on Tony's computer.
Weary but content voyager
Lee-Ann