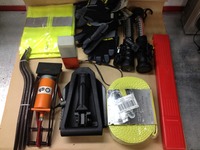 I have decided, after reviewing the pile of tools and assorted bits we packed, we will need a good 'MacGiver' skill set should anything REALLY go wrong with the car. 
Lets be honest. If something major like a clutch or driveshaft misbehaves or say an axles fractures (happened before to a Bentley on this rally) what can I really expect to get done with my tool assortment. What I will really need is the signature 'MacGiver tool set' . Complete with the MacGiver approved standard issue emergency items. This consists of ..wire....duct tape…and chewing gum. Equipped in this way should the unthinkable happen such as a broken crankshaft. I can bring out my MacGiver tools. I would use the wire and duct tape to lash the broken bits together, wait for a commercial break, then right on que the engine would be ready to go again (with a  wad of chewing gum holding the whole mess together). The classic Hollywood fix that get the protagonists out of trouble everytime.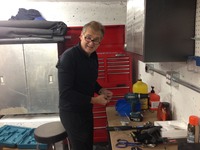 Now that I give this some thought I am starting to think that a James Bond like arrangement might prove a lot more satisfactory. I am thinking that a bit of time spent with "Q" at special branch would have been a good idea. Bond did have a Bentley Derby, he drove in the early novels (Goldfinger and Dr.No). I am sure that "Q" would have fitted this car with all manner of 'just-in-case' devices that would help somebody out of a tricky spot. Don't need the ejection seat (don't want to loose my navigator and wife, would have a lot of explaining to do) or the oil slick nozzles. Some machine guns up front might be cool. But would have a hard time explaining these away to Russian Border agents. Perhaps the amphibious rear propeller and combined jet pack would be just the ticket. There were several cars on the previous race that got stuck having to ford rivers and stalled or bogged down midstream. They had to be pulled out by local herdsman with horses and tractors. We could avoid all that bother with our special issue "Q" optional extras. And, yes, we would promise to return the car to special branch in one piece (we hope!).
Just to add my two cents worth, our good friend Michael offering us a gift for our travels, thought it might come in handy. Only thing is, that in order to get your Russian Visa you have to declare you have no prior knowledge of nuclear stuff or weaponry. Michael thought better of it in the end so just sent the website….http://www.uline.ca/Product/Detail/S-17541/3M-Duct-Cloth-Tape/3M-8979N-Red-Nuclear-Grade-Duct-Tape-1-x-60-yards.