So today we rest, well sort of, SO much to do so little time. Our arrival last night in Ulan Bataar was crazy. the traffic here is unbelievable. We were stopped and asked if they could buy our car. I responded with yes after the race. THe culture here is a mix of Russian and Chinese but quite a few speak English. The city is trying to be a city but many projects are half finished and look abandoned. So not sure what that equates too. Lots of cars, lots of expensive cars and no infra structure. More European than I expected so that s nice. we can get food we recognize too.
We woke not so early but early enough to get downt to a hearty breakfast and then out to see what is wrong and what can be done.
The horn of course needs fixed, especially in this city, we have a fuel leak we discover which explains why we ran out of gas, the brakes are another issue which we desperately need a part and hoping CARL (Tony sent you an email with photos) can find and fed ex to us for when when we arrive in Novisibirsk, ( the front right brake is missing the brake adjusting rod and thumb wheel) it has broken and fallen off. The interior of the car has more sand than the Gobi desert. we need to find a cleaning service or car wash like all the rest of the competitors. we dismantled the headlight so we have only one working now and Tony cannot find where the problem is with the signal lights so we need to  resort to hand signals out the door still. makes me think of the Flinstones.
Heres a photo for Desmond, this car is super fast and won that rally, shown on its side door. its sweet when it starts up and rises.
Ha, so this is a rest day for Tony, not likely.
Tomorrow we head out into the desert again this time for 6 days. so the blog will be down. I might try handing in a sheet at night as they publish things that happen on the enduro rally site for us. I heard not so sure if true that 13 cars are now out. OUCH! many were towed into town late last night.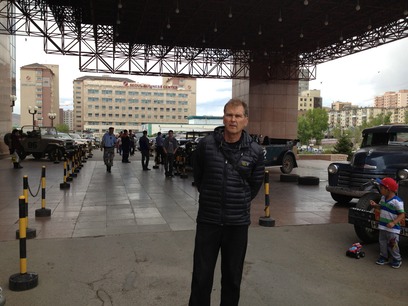 Tomorrow is supposed to be one of the toughest days and so a lot of people are saysing that they will back off. We are running currently 7th in our class, not bad since some of those ahead are supped up and have modern conveniences. Others are just better designed for this type of terrain. The Old  Rolls Royce fully open was rescued from its moment in the sand  yesterday where it got suck up to its floor boards and it is back in the race for tomorrow all cleaned up.
Today is Childrens Day here and they dont allow any alcohol and there is a fair and a party like atmosphere for children.
well signing off now. hope this publishes and talk on 6 days