Day 26 Kiev to Lviv about 468km
Our mornings never start with a whimper but we don't want a bang either. Up at 5:45 am pack car and check all looking good. The sun is brilliant and it is going to be very hot. I think already 30C. We are now starting officially 5th so it leads to a little apprehension at getting it right right off the start. Routing changes and changes are given as we register out of control. Today due to construction we have changes right from the exit. Those first few minutes as we leave are always a little harried and frustrating. If one ahead makes a mistake we are all like sheep we follow so you keep telling your self follow your info. It has for generally worked. Coming into Kiev  we saw two cars zoom by us only to watch them fly by the exit. So my mantra. 'Trust your instruments' they don't lie.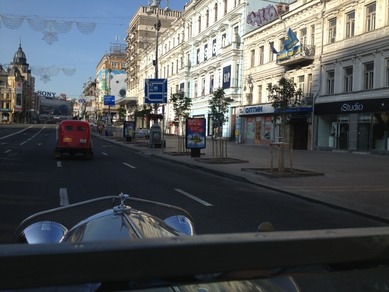 We pack the car then head back into the hotel for a hearty breakfast. The service here is exemplary and they don't charge us to do our laundry as they screwed up and deliver it at 4:30am. A little tight for time you might say. Anyway, it came thank goodness, we pack it up and off we go. Loren and Jenny come up beside us after 2 km asking if they can follow. Their Monet has quit on them. It's hard as we are all switching lanes quickly to get out of the city and get to the track. We keep them in our sights for some time but they get behind and we loose them. Thankfully their are tons of cars coming and I am sure they can pick up another. The Monet isn't really accurate this morning anyway as the exit was changed the Tulip map helps a little better.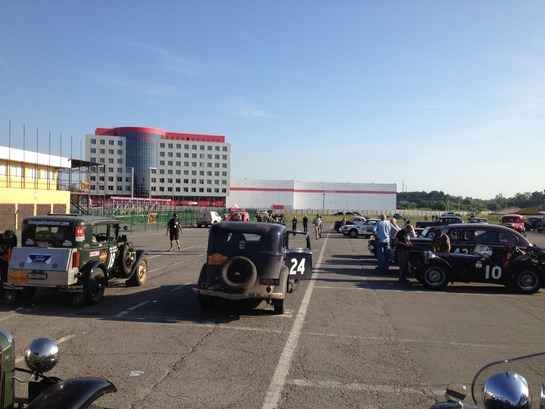 We head to the track for an 8:35 pit entrance time. The cars grid. All manner of us, some limping some looking lopsided. The Citroen we are told is finally back on all four wheels. It has been a sorry sight for the past week. Driving crooked down the road. We grid behind 30, 38, 12 and 14. It is great but we can't catch 30 or 38 they are just too powerful and our only hope is to drive a straighter line and be consistent. We don't have the speed on the straightaway they can carry.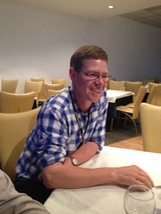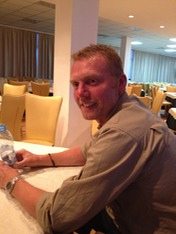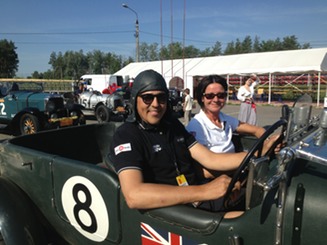 We head out, this is a big track and Tony again drives a great line. What we don't have in speed we have in cornering and although we drift around the corners the Bentley holds the road. Squeals and I hope it likes it. I sure do.. Once again I grab the handle and the door to keep from rolling into Tony. My book flies out of my hand and hits him. I quickly grab it and hold on with the other. Three times around the track and then we have to make a spectacular finish. We get scolded for not doing an exact stop so get a few seconds added to our time. Oh Well it's all fun. Sydney is rolling the camera as we pass through the Time Control and back onto the road and the long drive to Lviv.
That drive was a hard one. We understand there are only a few parking spots available at he hotel so we decide to make the drive in one shot and take only minimal breaks. It is my turn to get overheated today. It sure leaves you feeling weak and I can't get enough to drink. I finally started to perk up later in the day but it was a hot one and it really drains you. We put the roof up just to keep the sun off of us.
We roll into Lviv after a ticket for stopping  at a bus stop. The cop wants $30 euros, Tony leaves it on the police car seat. He lets us go.
Shortly after that we find a wasp in the car, I get stung twice so we pull over to get rid of it.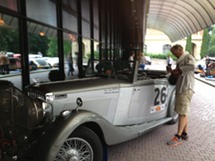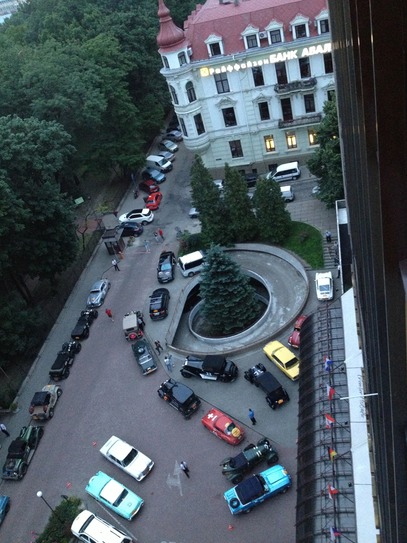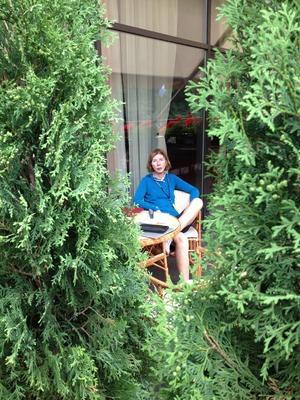 We arrive first in the city of Lviv and the finish arch isn't even set up yet. They weren't expecting us for awhile.and the city wanted to set it up for us to receive a medal and parade around. Our pictures were to be taken some were interviewed and then the photos presented to us. Our car starts overheating so we decide to head off to the hotel.  Missing the festivities. The manager at the hotel wants us to park right at the front entrance. We oblige. 
This is the first time we have  arrived first we are usually farther down the pack.. Just after us car 32 and car 30. Unfortunately it is the time earlier in the day that really matters. The time trial. We will have to wait and see how we do.
We go up to our room to unload and hit the lounge on the deck for a much needed beer.  Trying to cool down. 
A few others  join us. Later I am told that we made quite an impression at the track as I tried to be ballast for the car.  I grabbed the door to try and stop myself from falling on Tony as we went around the track it seems I looked quite funny hanging out of the car. We were quite entertaining according to those who were watching. We rivaled the Riley where the two guys both looked like they were driving at the same time. You couldn't really tell who was driving.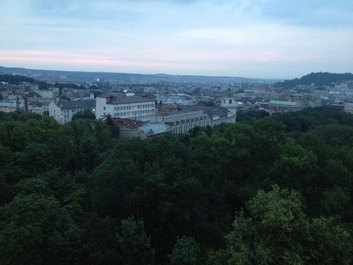 Tonight, I am absolutely exhausted. Tony sat down in the room and fell fast asleep. I decided to shower and write this. I am Half asleep and its only 7:00pm. Oh well off to dinner and check out the car. Tomorrow we are off to Slovakia can't believe it will be day 27.
Onward we go
lee Ann
Lee-Ann 🏁
Be eccentric now. Don't wait for old age to wear purple.